Community Voice
Friday, 09 December 2005
26th Maghar (Samvat 537 Nanakshahi)
Partap Singh and Family Leave Peru to Begin a New Life In India
Cochin, Kerala, India - After a 4-year lonely struggle fighting mistaken identity and ignorance and facing extreme difficulties, Partap Singh decided that enough was enough. After trying all possible honest means in providing for his family while not compromising Sikh principles, he turned to the Sikh community for help in September of 2005. He contacted UNITED SIKHS, which recognized his distressful situation and offered to come to his aid after thoroughly analyzing and verifying his circumstances. Three months after the initial plea for assistance, Partap Singh and his family has been relocated to Cochin, Kerala, where he envisions that his multilingual talent and experience within the tourism industry will fulfill his worldly needs and where the sizeable Sikh community will fulfill his and his family's spiritual needs.
Click below for the Community Voice describing Partap Singh's original situation:
www.unitedsikhs.org/PressReleases/COMVCE-29-09-2005-00.htm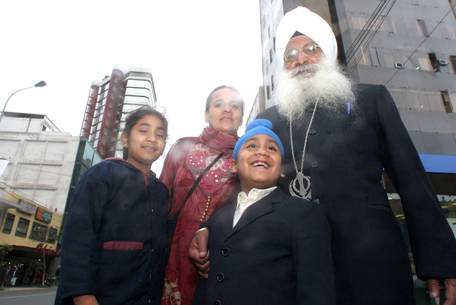 Picture: Partap Singh and Family – A Ray of Hope
Partap Singh and family said goodbye to Peru and arrived in Mumbai on November 17, 2005. Three vans and several Sikhs stood in anticipation at the airport to transport the whole family to the Singh Sabha Gurdwara in Dadar. It had been over a decade since he had visited a Gurdwara and been with a Sikh congregation. It was also the first time his Peruvian-born family had seen a Gurdwara. After a few days stay, they moved on to the Singh Sabha Gurdwara in Cochin, where local Sangat is currently looking after them until a residence is found.
"I will always remember the sewa UNITED SIKHS has done for me," commented Partap Singh. "I was nervous and felt defeated but after being dejected after several pleas, suddenly UNITED SIKHS was there". "I still remember the words of Kuldip Singh when he said, 'Don't worry, Partap Singh Ji, you are not alone. The whole Sikh Kaum (community) is standing behind you.' Today I know that they made it possible for me, and the Kaum is truly standing behind me. As soon as I am capable, I will repay the Kaum several times back and dedicate my life to helping others in distress", he added.
Partap Singh says that through his troubled times in Lima, Peru the only thing that kept him going was the thought of how Guru Gobind Singh spent his difficult days in the jungles of Macchiwada and how Guru Arjan stood the heat of a burning hot plate for five long days and nights without giving in to defeat. "Sikhism is so wonderful!" he exclaims. "It makes hardships go by without flinching and then the Guru does always take care of you eventually." His family thanks everyone who provided support; physically, emotionally, financially and psychologically. He says that the Sikh community will always be in his prayers, until his very last breath.
With the help of donations from the Sikh community, UNITED SIKHS was able to pay Partap Singh's expenses for three months before leaving Peru, for his wife's abdominal surgery, their nine months of unpaid rent, take care of the family's travel expenses to India, and settle the family in India including ample startup funds. Also, since the appeal went out, numerous people in the travel industry have contacted Partap Singh, providing him with many opportunities with his travel career.
UNITED SIKHS was overwhelmed by the caring response of the Sikh community since the original Community Appeal went out in late September. Sikhs from around the world opened their hearts. There were cash donations, frequent flier miles donations, personal visits, moral encouragement, pro bono offers to assist in US Asylum, and offers to help him stay in Peru by taking care of his living expenses for life. UNITED SIKHS would like to express our sincere gratitude to all those who donated whatever resources they could to aid Partap Singh and his family.
Please contact us by email at helppartapsingh@unitedsikhs.org with the subject "Project Partap Singh" with any questions or comments.
Please visit our website www.unitedsikhs.org for details of current projects.
Please join the PR_UNITEDSIKHS-subscribe@yahoogroups.com if you wish to receive regular updates on this and other issues raised by UNITED SIKHS.
Issued by:
Gurmeet Kaur
Project Coordinator
UNITED SIKHS
1 (678) 232 6780 or Toll-free: 1-888-243-1690
---
Our Mission
To transform underprivileged and minority communities and individuals into informed and vibrant members of society through civic, educational and personal development programs, by fostering active participation in social and economic activity.
UNITED SIKHS is also an avenue for networking between like-minded organisations to establish and nurture meaningful projects and dialogues - whether social, cultural or political- to promote harmony, understanding and reciprocity in our villages, towns and cities.
UNITED SIKHS is a coalition of organisations and individuals, who share a common vision based on the belief that there is no greater endeavour than to serve, empower and uplift fellow beings. The core of our philosophy is an unwavering commitment to civic service and social progress on behalf of the common good.
Accordingly, UNITED SIKHS has sought to fulfil its mission not only by informing, educating and uplifting fellow beings but also by participating in cross-cultural and political exchanges to ensure that the promises and benefits of democracy are realized by all.
We at UNITED SIKHS believe that the development of enlightened and progressive societies can be made possible by socially conscious groups of people who make a commitment to develop and direct human potential. Our work, efforts and achievements stand as a testament to our faith in this vision.