UNITED SIKHS Urges you to Be Alert, Beware and Raise Sikh Awareness
Highlights
Riverside Gurdwara in California vandalized on the evening of July 29th, 2013. Click here to read more.
First Anniversary of the Oak Creek Gurdwara Shooting Approaches
UNITED SIKHS encourages you to take a stand and raise Sikh awareness is your town
We highly recommend CCTV cameras to be installed on Gurdwara premises for safety.
Los Angeles, California- As we approach the first anniversary of the tragic Oak Creek Gurdwara Shooting in Wisconsin, it is heartbreaking to hear of the vandalization of another gurudwara. This time, the incident occurred in Los Angeles, California at the Riverside Gurdwara where the word "TERRORIST" was sprayed twice on the boundary walls of the Gurdwara.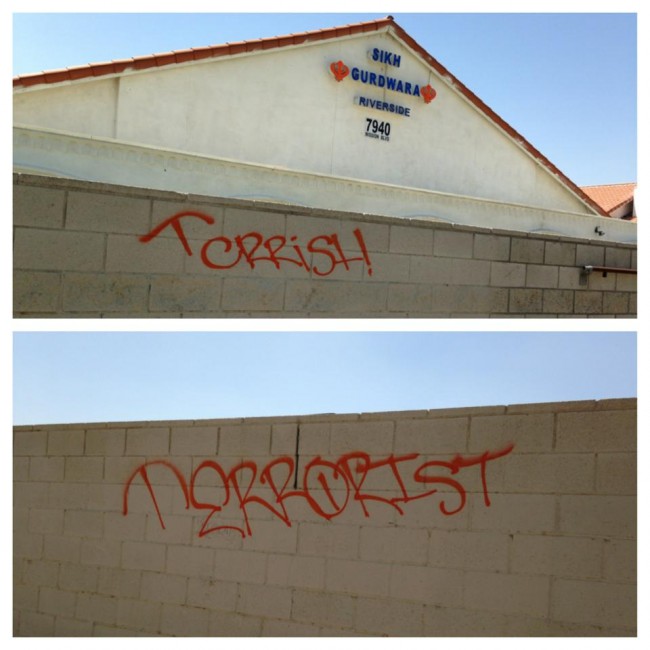 Photo Credit: SIKH24.com
UNITED SIKHS has contacted the local law enforcement, the Department of Justice CRS and requested them to thoroughly investigate this incident.
"As we are preparing to commemorate the lost lives at the Wisconsin massacre and continue the process of creating Sikh awareness, another terrible incident of vandalization has sent shockwaves within the Sikh community. This incident is deeply saddening, needs to be thoroughly investigated, but it should it no way dampen the spirits of the community which has taken a pledge after Oak Creek to root out ignorance regarding the Sikh faith from the American society," said Manmeet Singh, Staff Attorney of UNITED SIKHS.
The Jarupa Valley Sheriff's Office is in contact with UNITED SIKHS and has confirmed that investigation of the vandalism of the Riverside Gurdwara is under way. The Jarupa Valley Sheriff's Office have confirmed that this is likely the act of a juvenile tagger who also defaced other properties in the area. They are also still investigating the incident as a hate crime.
UNITED SIKHS asks each and everyone to keep vigilant to your surroundings and beware of the possible negative forces that may come as the first anniversary of the tragic shootings in Oak Creek, WI is approaching. We do not want to lose our anymore of our brothers and sisters to this act of violence. If you see something, say something. Report all suspicious activities to law enforcement agencies.
What can you do to raise Sikh awareness:
Educate others on Sikhs and Sikhism
Help increase security at your local Gurdwara
Embark upon Sikh outreach programs by engaging public langars, as well as participate in American Government cultural activities and memorial parades
Invite your American friends, bosses, colleagues and neighbors to your Gurdwaras.
Please use the links below to get more information as you spread the word across your community:
Talking points about Sikhism and what people can do to help the victims and their families
Pledge against hate crimes. Join "I Pledge against Hate Crime" campaign
How can I keep myself and family safe? UNITED SIKHS has developed a Toolkit and action plan to prepare communities for an emergency situation. Feel free to print and share with family and friends.
We encourage the Sikh community to vigorously practice their faith and report any issues in their respective areas that burden the ability to practice their faith. Call 1-718-441-6644 or email us @ law-usa@unitedsikhs.org to report any concerns.
To speak to a UNITED SIKHS representative directly, please visit www.unitedsikhs.org/contact.php to find an office near you.
Issued By:
Manmeet Singh
Staff Attorney, International Civil and Human Rights Advocacy (ICHRA)
UNITED SIKHS
Tel: 1-718-441-6644
law-usa@unitedsikhs.org
Contact us | Follow us on Facebook and Twitter