UNITED SIKHS distributes blankets and supplies to displaced families in Pakistan as the hardships of winter continue.
Peshawar, Pakistan: UNITED SIKHS provided assistance to families who were affected by the communal conflict in the ( Feroz khel tribe) Orakzai Agency and (Sada) Khurram Agency, by providing them with blankets and assisting Gurdwaras with essential supplies utilizing funds donated by sangats in Canada, UK and US, specifically for Pakistan IDP relief, as the harsh winter in Pakistan continues to take its toll especially on those who have been displaced from their homes.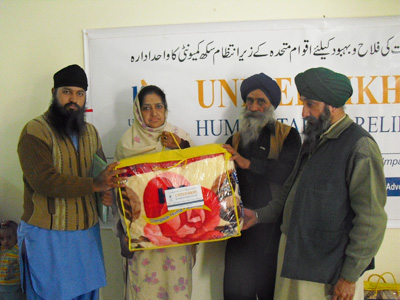 Residents of Pendigeb receiving blanket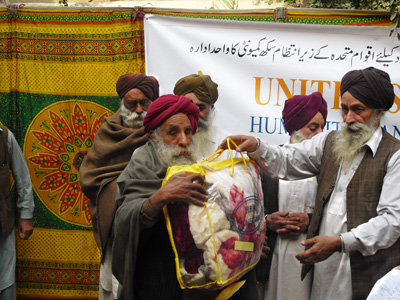 Resident of Khyber agency receiving blanket
UNITED SIKHS distributed blankets to 87 families in need including Sikh families of Khyber, Orakzai, and Khurram Agencies and some Hindu families of Para Chinaar Khurram agency. Baba Ji Amir Singh, the leader of Sikh Sangat in Peshawar and FATA, and UNITED SIKHS volunteers Charanjit Singh Sagar and Saroop Singh distributed blankets to Internally Displaced Persons (IDPs) from minority communities. Baba ji Amir Singh thanked UNITED SIKHS for providing blankets for IDPs and added that it will help IDPs cope with the hardships of bitter winter.

As temperatures drop in North-West Pakistan, UNITED SIKHS also began distribution of additional relief supplies to IDPs living in Peshawar and Hasan Abdal with host communities. Supplies included medicines to Civil Dispensaries of Gurudwara Bhai Joga Singh Peshawar and Gurudwara Punja Sahib Hasanabdal and food supplies to Gurudwara Bhai Joga Singh Peshawar for Langgar. The committee members of Gurudwara Bhai Joga Singh, Amrat Singh, Baba Ji Makhan Singh and Sarbat Singh, expressed their gratitude for having important medical supples and food rations to assist with rehabilitation efforts.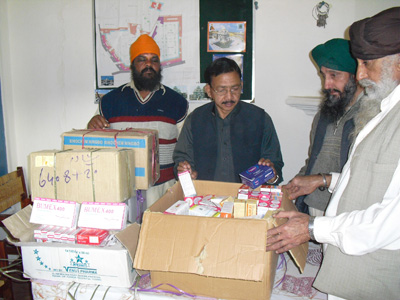 Dr. Mahammad Ali, in charge of the Civil Despensary Gurudwara Punja Sahib, checking supplies donated for Sikh IDPs living with host communities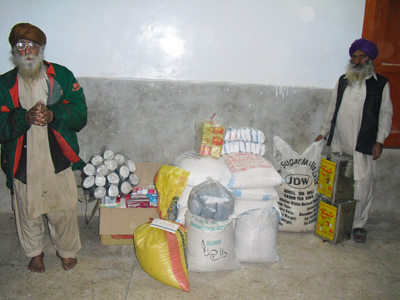 Donated food supplies for Gurudwara Bhai Joga Singh and medical supplies for G.Bhai Joga Singh Civil dispensary
Dr. Mohammad Ali, who is in charge of the Civil Dispensary at Gurudwara Shri Punja Sahib said "We are very thankful to UNITED SIKHS for donating medicines; these were urgently needed." He added a request for more supplies especially for common cold, fever, diarrhea, intestinal, stomach and gastric problems as the season makes children more susceptible to these diseases.

The IDPs from Bunir and Swat are also facing difficulties in getting food rations from UN and other agencies. The National Database and Registration Authority (NADRA) has blocked thousands of ration cards of families from these areas (which provide identification and therefore access to existing food supplies). UNITED SIKHS along with other UN agencies is coordinating with Social Welfare Department NWFP, PARRSA, NADRA and Special Support Group (SSG) to reopen these ration cards.

The insurgency in Pakistan has taken its toll on people living in conflict affected areas. The Sikh families who fled from Orakzai and Kurram Agency have taken shelter with host communities in Peshawar, Nankana Sahib and in Punja Sahib, Hasanabdal. UNITED SIKHS has rehabilitated nine families so far by assisting them in opening small businesses in Peshawar, Hasanabdal, Rawalpindi, and Nankana Sahib.

UNITED SIKHS needs the support of Sikh sangats all over the world to rehabilitate 15 families of Orakzai and Kurram Agency. We need $1000.00 USD per family for rehabilitation. IDPs of Khyber urgently need dry food, including flour, sugar, tea and dry milk or non-perishable milk, and medicines.

You may read a previous press release on our Sikh Aid relief efforts for Pakistan IDPs at http://www.unitedsikhs.org/PressReleases/PRSRLS-29-12-2009-00.html


Issued by:
Harpreet Kaur
Director
UNITED SIKHS
email: sikhaid@unitedsikhs.org
Ph: 1-905-672-2245 ( Canada)
1-888-243-1690 (USA)
1-646-688-3525 (USA)
+44 8701993328 (UK)
15 families await help as none have received any from the government yet. UNITED SIKHS needs your help to support and rehabilitate families in need. Each family needs $1,000 USD to be set up with a means of livelihood.
Donate at www.unitedsikhs.org/donate or mail a check to a UNITED SIKHS office nearest to you.
UNITED SIKHS would like to thank individual donors in Canada, the UK, and in the USA, and would like to thank the Sikh Cultural Society of New York Gurdwara and Gurdwara Baba Makhan Shah Lobana for their donations.
Contact Us