"A Mother always thinks twice, both times for her child,"
-Anonymous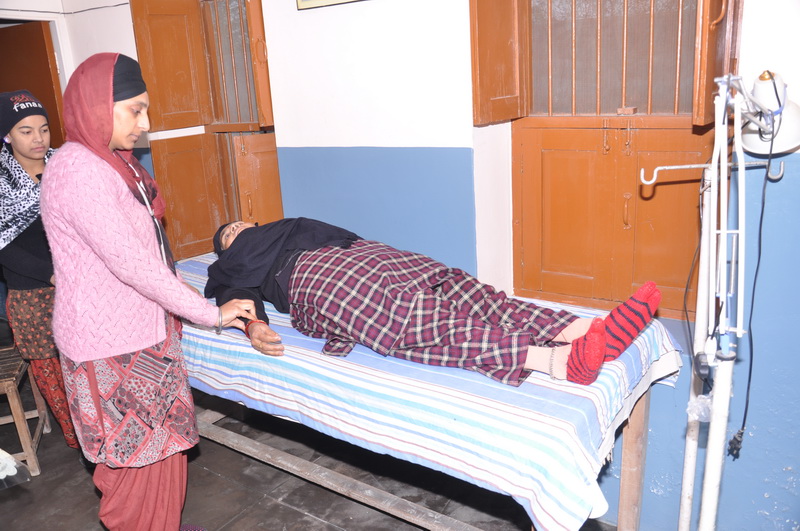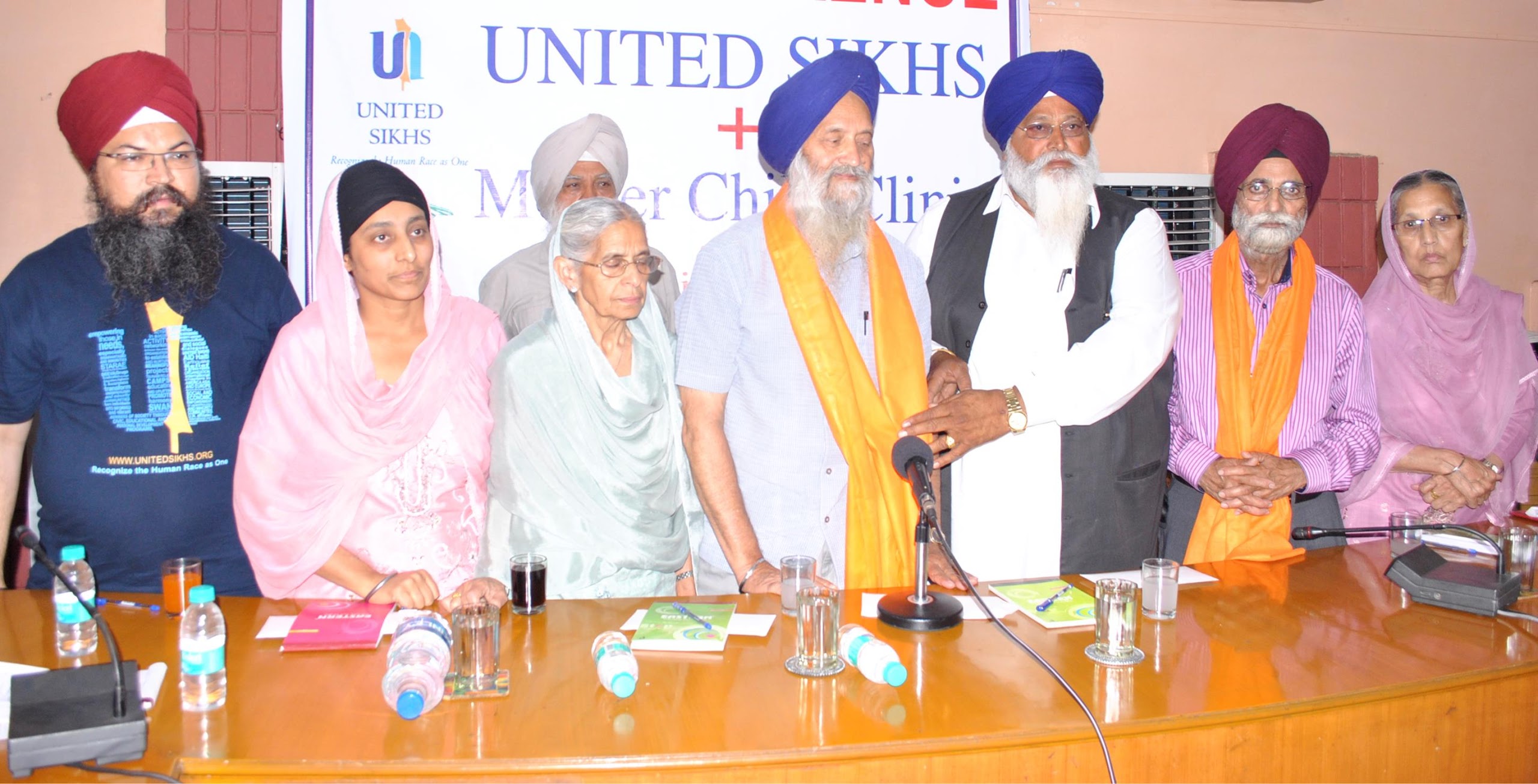 "I was suffering from menorrhagia for 5 days. I started vomiting violently late at night. My blood pressure dropped severely. I was helpless since my husband was at work. I went to the UNITED SIKHS Mother Child Clinic where I was immediately attended to . After just an hour, my health improved. I cannot thank UNITED SIKHS enough for starting this noble project for poor and needy people." ~ Kulwinder Kaur, 38 years old, Randhawa Village, Panjab, India
"I am very thankful to UNITED SIKHS for treating me for Asthma, no matter what day or time it is. I am a regular patient at the clinic. During the harvesting season, I get sudden asthma attacks. One evening in particular, my attack came on with high blood pressure. I rushed to the clinic at 2am and was nebulized immediately. Within 2-3 hours, my blood pressure became normal and breathing was improved." ~ Baljit Kaur, 45 years old, Randhawa Village, Panjab, India
"UNITED SIKHS came to the rescue of myself and my unborn child. After 16 years of marriage, my husband and I were finally blessed when I conceived our first child. I was 7 months pregnant when I could not feel my baby moving. I rushed to the UNITED SIKHS clinic late that night and was reassured after a thorough examination that my baby was alright. I am very thankful to Dr. Gurbinder and her team." ~ Kamal Kaur, 36 years old, Surja Village, Panjab, India
Highlights
UNITED SIKHS Mother and Child Clinic (MCC) helps about 40 needy daily visitors from 5 villages and has helped thousands since it was opened in April 2012.
You can help us provide free healthcare to a mother or her child by donating $1. Make a monthly recurring donation of $30 or £20 a month and help a mother or a child a day.
Your generosity is highly appreciated. Donate to help women and children in need in Panjab.
Contact UNITED SIKHS if you would like us to help you set up a Mother Child Clinic (MCC) in your village and you have premises and funds to subsidise it. It presently costs UNITED SIKHS about $700 a month to run our first MCC. Call us on +91 987191 8599 or +91 9779957973 or email sikhaid@unitedsikhs.org
Randhawa Village, Panjab, India - On Vaisakhi 2012, UNITED SIKHS opened a much-needed health facility in Panjab, India, serving needy women and children. Since then, we have been providing free healthcare to thousands at our Mother and Child Clinic (MCC) at the cost of one dollar per needy person.
The Coordinator of the UNITED SIKHS Mother Child Clinic, Dr. Gurbinder Kaur, a homeopathic doctor, runs the health clinic as a free clinic that provides basic urgent and chronic health care to the residents in the Randhawa village and other villages nearby. "It is a growing population segment that needs help. Through the clinic, UNITED SIKHS is promoting wellness in the community." said Dr. Gurbinder Kaur
"We need to create a revolution in healthcare for a needy mother and child. This can happen if an NRI or resident Panjabi, who has premises to spare and a kind heart to allocate funds, contacts UNITED SIKHS for assistance to set up a Mother and Child Clinic," said Mejindarpal Kaur, UNITED SIKHS director.
Harjinder Singh, one of the members of the founding family of the MCC in Randhawa expressed his gratitude for the clinic, "When UNITED SIKHS contacted my brother to re-start the medical services, we were delighted." "We hope that the project will continue to serve the rural community for a long time. We are delighted that our small inheritance is being used for the welfare of our motherland." Harjinder Singh's family joined together to fund the clinic in memory of his late father and wife, in November 1991. Harjinder Singh's family ran a free clinic at the same premises for more than ten years but had to discontinue the services a few years ago. UNITED SIKHS approached Harjinder Singh's family to use their premises to re-start the clinic, which after a survey of the needs, was re-opened as a Mother and Child Clinic.
Plan: UNITED SIKHS' goal for 2014 is to touch 100 lives every day by promoting wellness as well as providing basic urgent care to underserved poor communities in the surrounding 10 villages. Due to the large population needing health care and the current demand on the clinic; we need to upgrade the services at the MCC to include an ambulance, lab facility, admitting room, 24/7 pharmacy, medical camps, physical therapy resources, x-ray and scanning equipment, dentist, dental surgeon, optometrist, and much more. With your help, we can accomplish all of these needs and more. With just a $1, you are improving the life of a woman and child in need in Panjab.
Mother Child Clinic Milestones to Date:
Inaugurated on the day of Vaisakhi in 2012, in Randhawa village, (near Goraya), Panjab
UNITED SIKHS Mother Child Clinic gave free health examinations and prescriptions to more than 5000 patients from 5 villages in the first 8 months
$1 will provide medical care and medicine to a mother or her child
Provide computer literacy to children in the nearby villages
Teaching young girls how to sew Panjabi suits
Average of 35-40 patients visit the clinic daily
Clinic is currently open 7 days a week
Monthly Maintenance and Operational Costs are about $700 USD
Health Services currently provided to needy visitors to the Mother Child Clinic:
Common cold relief
Pain relief
Fever
Infections
First aid
Blood glucose checks
Gynecological Care
Pediatric Care
Vaccinations
Facilitate Lab tests
Emergency care for asthma and hypertension sufferers
Free non-prescription allopathic and homeopathic medicines
The clinic is open 7 days a week and also promotes wellness in the community by educating the farmers on the correct use of pesticides and how it is related to cancer issues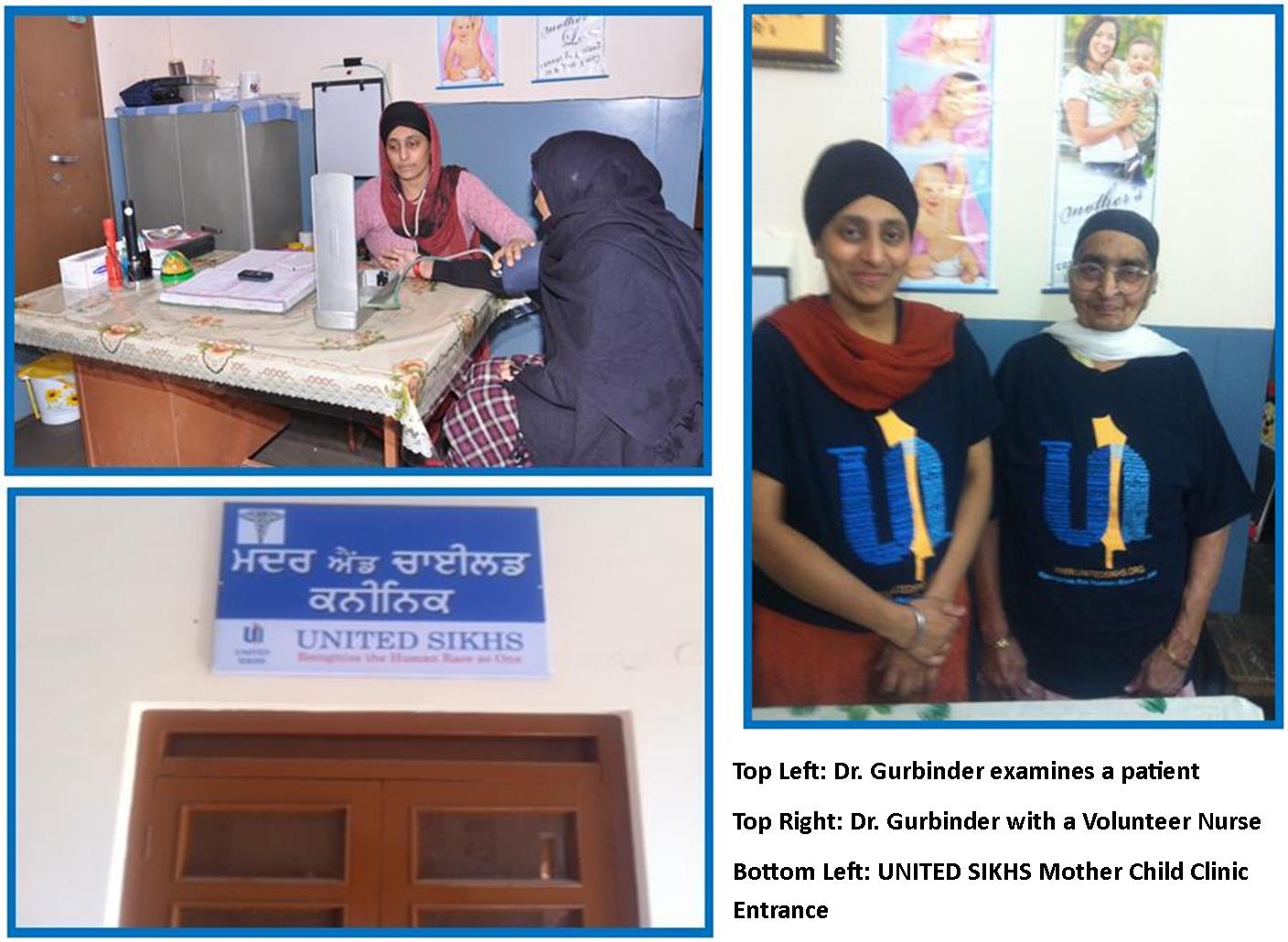 UNITED SIKHS would also like to thank all our supporters who have been donating their time, money and efforts towards this noble cause. Your support at this time is essential to this relief for this clinic to continue keeping its doors open and serving our mothers and children in Panjab.
Please visit www.unitedsikhs.org/donate.
Issued By:
Gurvinder Singh
UNITED SIKHS AID Director
sikhaid@unitedsikhs.org
+91 987191 8599 or +91 9779957973