California, USA-UNITED SIKHS congratulates its volunteers and supporters on the fourth annual Sikh Awareness month in California, USA. In 2012, California State Legislature declared November as Sikh Awareness and Appreciation month-a month to recognize American Sikhs, and honor the contribution of Sikhs to American society.
This November, join us to help teach our fellow Americans about Sikhi:
"Be Your Own Superhero"
Join us for an anti-Bullying workshop in Milpitas Gurudwara, California on November 8, beginning at twelve in the afternoon (Pacific Standard Time) and lasting for four hours, with special guest artist Joti Dhanjal, creator of Dhanjalart.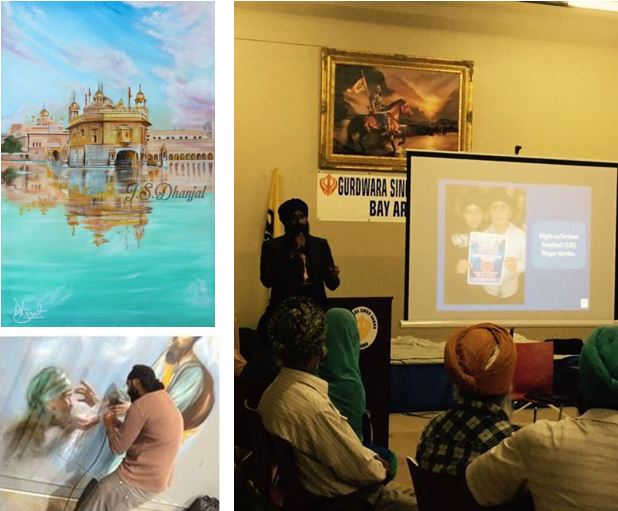 Joti Dhanjal is a young Sikh artist from the UK. Click here to view more of his work.
UNITED SIKHS is committed to continuing the fight against bullying, and to providing knowledge and resources to students and parents who face bullying. To attend the workshop, please contact contact@unitedsikhs.org. Click here to view images of previous anti-bullying workshops.
"Tie a Turban Day"

In collaboration with the San Jose State University Sikh Student Association, UNITED SIKHS aims to fight the stigma and stereotypes against turbans, and humanize individuals who wear them. This event will take place at San Jose State University, California on November 18, beginning at 11:00 AM Pacific Standard Time and lasting until 2:00 PM.
This year, we encourage all California residents to do their part to spread awareness about Sikhism and its followers. If you would like to organize a UNITED SIKHS Turban Tying Day or an Anti-Bullying Workshop, contact contact@unitedsikhs.org.
It is through your support that we are able to spread awareness about Sikhism. Join our effort to spread awareness of minority faiths by donating today to help us expand these programs.

Keep up to date on this issue and other UNITED SIKHS initiatives by following our social media accounts:Facebook | Twitter | Blog
Issued By- 
Jaspreet Kaur
Staff Attorney,International Civil and Human Rights Advocacy (ICHRA),UNITED SIKHS
P: 646-688-3525 E:law-usa@unitedsikhs.org | contact@unitedsikhs.org