Cox Bazaar, Bangladesh: Over the past year, Refugees pouring into Bangladesh have suffered through a devastating humanitarian crisis. Escaping genocide in Myanmar with nothing but the clothes on their back, the Rohingya face dire conditions in their journey to safety: more than 75% of the refugees lack secure shelter, often resorting to makeshift shelters scattered on rural roads, without drinking water, sanitation, and security. The future of the Rohingya people remains uncertain.
CALL TO ACTION: Your support is crucial. Join the cause and please volunteer and donate. USA donors text "HELPREFUGEE" to 91999 or click:UNITED SIKHS ROHINGYA SUPPORT. Each donation will help ensure that we are able to feed, clothe, and support those in need for another day.
"This is the world's fastest growing humanitarian crisis and they have fled unimaginable violence. The emotional toll has left people so fragile that they cannot survive without proper support. Imagine 14,500 people every day and 12 people every minute. These are the numbers arriving into the camps each day," said Jatin Singh, UNITED SIKHS Lead Coordinator.
In collaboration with the UN Shelter Cluster in Cox Bazaar, UNITED SIKHS is committed to providing necessary support to the 10,000 Refugees who have found safe haven in Naikhogchari, Bangladesh, near the border of Myanmar.
"We are serving three, hot meals each day to over one thousand refugees," says UNITED SIKHS Global Director, Jatinder Singh, "and emergency relief to help rebuild the lives of the Rohingya refugees."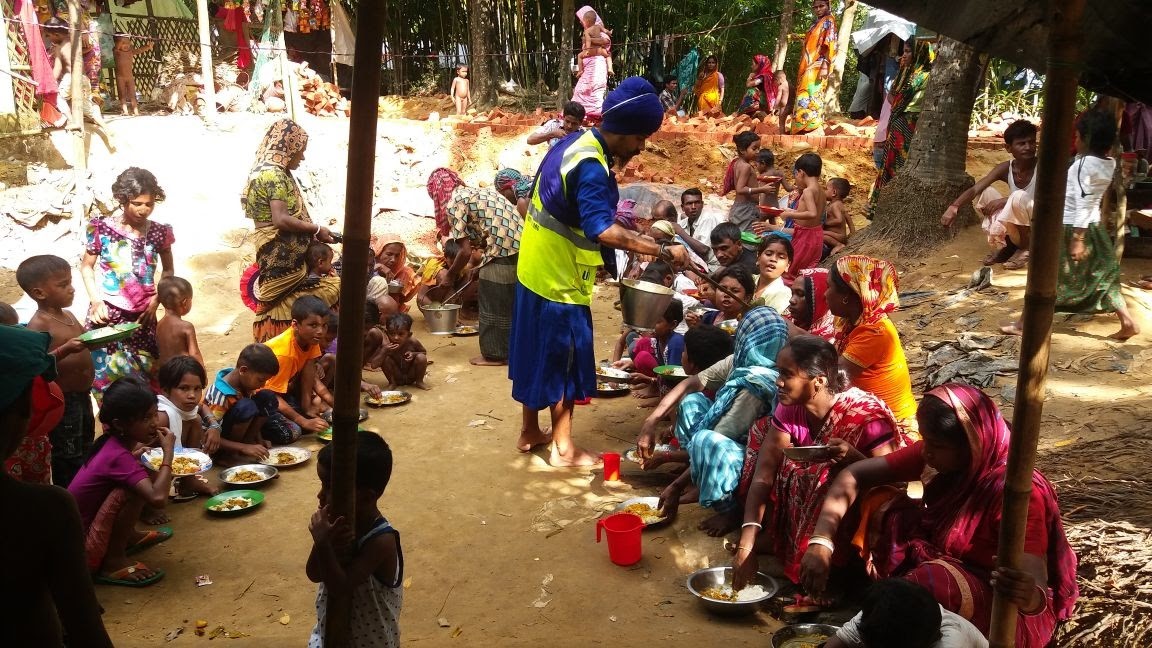 Jatin Singh, team coordinator, helping feed 1000's of refugees every day; refugees are eager to help and enjoy making and
serving the food for others in the campsite as well.
To ramp up our efforts, waterproof tarps and corrugated metal sheathing are key materials our teams have implemented for temporary shelters. Clean water, adequate sanitation and medicine are our focus for health and welfare. Although the UN WASH Initiative is helping build sanitation and hygiene facilities for the refugee camps, relief teams are weary of the upcoming monsoon season; the scarcity of supplies will leave the refugee camp and its inhabitants more vulnerable.
We cannot continue this important work without your action to step up and please volunteer and continue to donate. Donors in USA can also text "HELPREFUGEE" to 91999 or click the donation link: UNITED SIKHS ROHINGYA SUPPORT.