Press Release: Monday, 5 December 2005, (22nd Maghar, Samvat 537 Nanakshahi)
French Sikh Wins Right to Wear Turban
Court: There is no law that requires a Sikh to bare his head for a driver's licence photograph
Paris, France—The French High Court, the Conseil d'Etat, ruled today that a French Sikh has a right to wear his Turban for his driver's licence photo. The court ordered that Shingara Singh Mann be given his driver's licence within a month.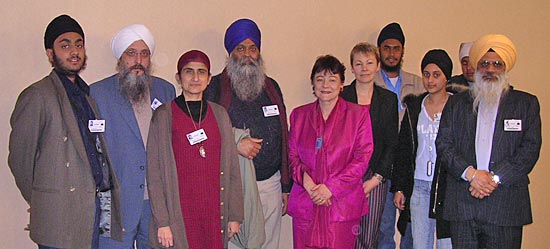 Shingara Singh (extreme right) and a UNITED SIKHS delegation with the MEPs in the European parliament.
The court ruled that the decision of the administration in Val d'Oise, to require Singh to bare his head for his driver's licence photograph, was illegal. The court said that there is no law that requires a Sikh to bear his head for his driver's licence photograph. Click here for the judgment in French and an English translation.
The court said that the administration could not rely on a 1999 Order of the Interior Ministry to refuse a licence as it was outside the authority of that Ministry to regulate the issuing of driver's licence. It went on to say that the Transport Ministry has authority to make rules on the documentation required for a drivers licence. However, there is no requirement in the 1999 Order of the Transport Ministry that requires one's head to be bare for a driver's licence photograph.
"The High Court today has effectively suspended an earlier decision of the Administrative Court which had ruled, after an injunctive hearing, that the Administration had acted legally for requiring Shingara Singh to remove his Turban for his Driver's licence photo," said Francois Jacquot, a French lawyer engaged by UNITED SIKHS and the French Action Committee for the Sikh Turban.
"Today's High Court decision is significant as Shingara Singh will have his driver's licence soon without having to wait for the outcome of the substantive case in the Administrative Court," he added.
Mr Jacquot said that whilst the High Court's decision does not bind the Administrative Court, today's decision will have an impact on the lower court as a question of law has been decided. The decision of the High Court only affects the wearing of a Turban for a driver's licence, Mr Jacquot explained.
"I am very pleased that the French judiciary acted robustly in not allowing the French Turban ban law in schools to be extended into other areas by over-zealous administrators," said Kudrat Singh, director of the UNITED SIKHS chapter in France.
"UNITED SIKHS took up Shingara Singh's case as it affected a Sikh's right to practise his religion and it affected the future of Sikhs in France. We have worked on this case against all odds and we thank the Sikh community for its support," he added.
"I am very pleased with the outcome as a Sikh's right to practise his religion has been upheld and the integrity of the Sikh community has been preserved," said Shingara Singh, who is also a director of UNITED SIKHS.
To read a previous Press Releases on this case see: www.unitedsikhs.org/PressReleases/PRSRLS-14-02-2005-00.htm
For more information on the Right to Turban campaign, please link to: http://www.unitedsikhs.org/rtt/
Issued by:
Mejindarpal Kaur
Director
UNITED SIKHS
Tel: (0044) (0) 870 199 3328
---
Our Mission
To transform underprivileged and minority communities and individuals into informed and vibrant members of society through civic, educational and personal development programs, by fostering active participation in social and economic activity.
UNITED SIKHS is also an avenue for networking between like-minded organisations to establish and nurture meaningful projects and dialogues - whether social, cultural or political- to promote harmony, understanding and reciprocity in our villages, towns and cities.
UNITED SIKHS is a coalition of organisations and individuals, who share a common vision based on the belief that there is no greater endeavour than to serve, empower and uplift fellow beings. The core of our philosophy is an unwavering commitment to civic service and social progress on behalf of the common good.
Accordingly, UNITED SIKHS has sought to fulfil its mission not only by informing, educating and uplifting fellow beings but also by participating in cross-cultural and political exchanges to ensure that the promises and benefits of democracy are realized by all.
We at UNITED SIKHS believe that the development of enlightened and progressive societies can be made possible by socially conscious groups of people who make a commitment to develop and direct human potential. Our work, efforts and achievements stand as a testament to our faith in this vision.