Meet Our Advocacy & Humanitarian Aid Academy Graduates!
Washington, DC- The Advocacy & Humanitarian Aid Academy (AHAA) was a successful four-day extensive training program in Washington, DC from July 22-25, 2014 consisting of panels, interactive panels, lectures, and skill-building exercises. During the AHAA, students had an opportunity to hear from UNITED SIKHS staff, religion professors, NAACP and Sikh Campaign directors, and Department of Justice and US AID government agency officials. Workshops included topics, such as: "What is Sikhi Really?"; "Creating Positive Sikh Perceptions in the Media"; "Resume Building Exercises"; "Civil Rights Updates" "What is Human Rights?" and "Racial and Health Equity: Why It Matters."
In addition, students visited the Beyond Bollywood exhibit in the Natural History Museum, where they learned about Sikh immigration history, the first Sikh basketball player, Sikh professions, the first Sikh congressman, and post 9/11 backlash. Students also had the opportunity to attend our Innovative Justice Banquet and Fundraising Gala, and Summit meetings with congressmen, Senators, and government officials.
We are excited to introduce to you our graduates and their testimonials. For pictures, please click here.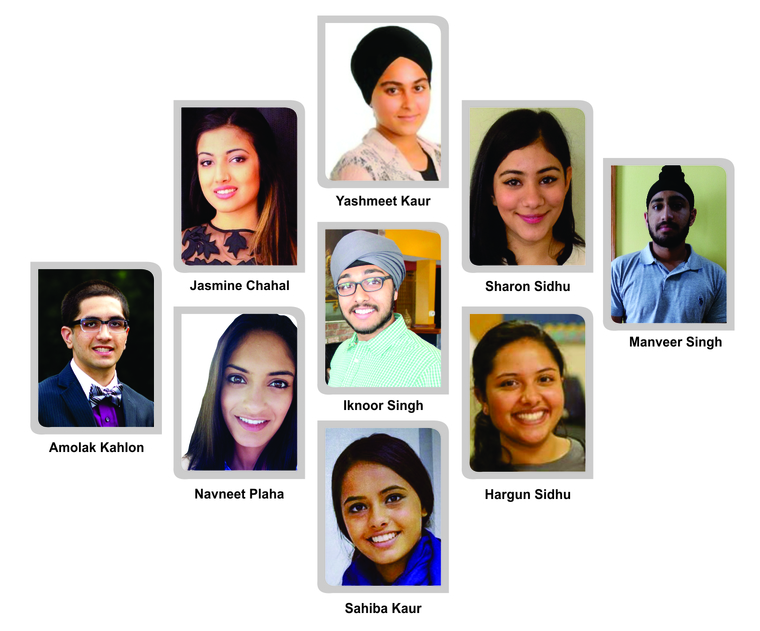 Amolak Singh Kahlon:
The UNITED SIKHS Academy and Summit were two of the most engaging and rewarding experiences of my life. I never imagined that I would meet so many professionals working in law, the federal government, and advocacy in such a short period of time. The skills we learned in the academy, such as how to discuss issues with congressmen and leadership skills are vital to all aspects of life. The training we received during the Academy was utilized perfectly during the Summit, as we discussed Sikh issues with several congressmen, including Paul Ryan. I greatly enjoyed learning a plethora of information and spending time in the nation's capital over the last few weeks.The Academy/Summit are tremendous opportunities that should not be passed up, especially for someone who's interested in law, politics or advocacy. I can't wait to continue having these conversations with government officials and attend both of them as an alumni next summer!
Navneet Kaur Plaha:
The UNITED SIKHS' Summit is the most amazing experience of my life. I got an inside look at how Washington, DC works. I never thought that I would be able to meet and speak with Senators before. The academy was also a very enlightening experience. We got to meet with Sikhs from all over that were trying to make a difference for our community. It was very empowering to hear them tell me how they are trying to help our community; they made me realize that I could make a difference too.
Yashmeet Kaur:
From day one, we were exposed to Influential political leaders. I gained invaluable experiences throughout both the academy and summit. From advocacy and humanitarian aid training to resume and career building workshops, the Academy held a variety of informational and interactive sessions. Participating in the Sikh Summit gave me the opportunity to meet Congressmen, Senators, and other prominent leaders to discuss the major issues Sikhs face and to make them aware of arising policies that would be specifically discriminatory towards our community.I would highly recommend this program without any reservation, to every Sikh that hopes to make a change for the betterment of our community.
Sahiba Kaur:
The Advocacy and Humanitarian Aid Academy, or as we like to call it "AHAA", was an experience I will never forget. The skills we gained throughout the Academy not only prepared us for being proper advocates, but also helped us become more confident in the professional world. The Academy also trained us perfectly for the Sikh summit, in which we imbibed all these skills to present issues facing the Sikh community to senators and congressman. I recommend this academy to all who would like to become advocates of the Sikh faith, and especially for the individuals who are interested in law, policy, and working for the federal government.The academy and summit are opportunities that no one should pass up and the experience gained has taught us to become more confident in all aspects of life. I am extremely proud to be an academy graduate and excited to come back next year as an AHAA alumnus.
Sharon Kaur Sidhu:
The 2014 Sikh Awareness Academy was the highlight of my summer. Not only did I learn so much about my religion and community, but I also made eight new friends. The workshops were very informative and well rounded. We had the opportunity to hear from people who are very successful in their field of work and gave us guidance as to how we can achieve success in our own futures. I would highly recommend this workshop to everyone, not only Sikhs. It's a very rewarding experience and if I could, I would do it again next year.
Manveer Singh Reehal:
UNITED SIKHS' Academy was a once in a lifetime experience that opened up a myriad of opportunities for me. The academy was an incredible learning experience, as well as a practical workshop that helped lay the groundwork for advocacy and aid not only for Sikhs but for the entirety of the human race. The word "academy" may have a boring connotation but the experience was anything but boring. I had an amazing time learning and getting to know my community with other students from the United States and Canada. The speakers expressed ideas and knowledge that kept my attention and motivated me to do the kind of work they did, and even more. Our chaperons/leaders were funny and extremely influential in a professional yet friendly way. I have made friendships that I will keep for the rest of my life, and memories that make me want to do this again. I urge new students to join this academy next summer and have this once in a lifetime experience.
Jasmine Kaur Plaha:
I feel that the time I spent at the UNITED SIKHS Academy provided me with information that benefits my overall knowledge of my religion, the prejudice the people of my race face, and different opportunities I could have in my future if I am willing to help others who need aid in my country and around the world. I really enjoyed learning about our struggles in history (ex: 1984) and what we as citizens of first world countries are doing to obtain equality whilst aiding others who are struggling. It was impressive to see how many speakers were able to come in daily to educate us on their political standings, organizations, and personal educational life. Like a sponge, I soaked up all the information I was provided with that applied to my life back home, and I really hope to be a part of this exciting opportunity that the UNITED SIKHS Academy gave me once again next year.
Iknoor Singh:
The 2014 Sikh Awareness Academy truly inspired me do things I would never have dreamed of doing before. Speakers ranging from Department of Justice Officials to Executive Directors of the National Sikh Campaign to Professors gave way to inspire the Sikh Youth. Most of the ideas brainstormed were of things we would have never have imagined to do by ourselves. Professor Gill encouraged us to use the Gurdwara as a means of doing seva for the outside community, while Gurwin Ahuja provided us with ideas to change the perception of Sikhs around the Nation through media. I came out of the Academy as a refreshed outside-the-box thinker, energized to make a difference. The chaperones were absolutely amazing being with us step by step but providing the necessary freedom as well. Ranjit and Anisha Singh truly motivated me to step outside of my comfort zone and make a difference. I am sincerely thankful for the academies participants and supervisors. I encourage all Sikh youth to attend to make great friendships and pioneer the path for future Sikhs.
Hargun Kaur Sidhu:
I really enjoyed hearing about the presenters' professional and community service experiences because it encouraged me to be creative in my approach to addressing the issues that matter most to me. Another very helpful aspect of the presentations was that the speakers shared ideas regarding how we could get involved in our specific areas of interest. After having the opportunity to network with them, I realized how fortunate I was to build connections with people who share my passions and can provide me with guidance, support and access to many opportunities in the future.
Attending the Academy was a great way to explore various professional and humanitarian fields. It taught me about the most pressing issues that the Sikh community faces today, and showed me what I can do about them. As a result, I now have a much clearer vision of what I want to do in the future in order to serve the community on both a local and an international level. I am also very grateful to have made some great friends and memories throughout this experience. It exceeded all of my expectations and I would definitely recommend it to other students in the future!
Speaker and Religion Professor for California Lutheran University, Dr. Rahuldeep Singh Gill, said: "The UNITED SIKHS Academy provided a forum where students became leaders by engaging with professionals on some of the most important issues of the day. Not only did they gain knowledge, they were empowered and equipped through skill-development."
Our graduates left the Academy as well-rounded and passionate advocates, humanitarians, and activists with developed missions and goals to assist our organization and the Sikh community going forth.
A very special thank you to our speakers, trainers, and volunteers who helped make this Academy happen and inspired our 2014 graduates.
To support the AHAA, please click here.
The future lies with our youth; let's invest in them together.
Issued by:
Anisha Singh
Staff Attorney and Policy Advocate
International Civil and Human Rights Advocacy (ICHRA)
UNITED SIKHS
law-usa@unitedsikhs.org