Human Right Group Files White House Petition on Behalf of Sikh-American Political Prisoner Resham Singh held in India Without Due Process.
California and New York, USA:According to Voices for Freedom, an international human rights advocacy non-governmental organization, American Sikh is being held without bail and unlawfully in India and others are being threatened with arrest by the Indian authorities. They are targeted on political grounds and are not being afforded lawful treatment under international and Indian law in India simply because they are Sikhs. Today, Voices for Freedom filed a White House petition in support of the release of Bhai Resham Singh and are calling on the White House and President Obama to support Sikh religious rights in India.
American Bhai Resham Singh (in yellow turban) held in Amritsar, India by Indian Police
Please sign the petition at https://wh.gov/iehtX
Resham Singh is an American citizen and resident of Bakersfield, California. He is Senior Vice President of the Shiromani Akali Dal (USA) and was arrested on November 4, 2016. He visited India to attend Sarbat Khalsa, a Sikh event that has been celebrated by Sikhs since the 1700s. He was arrested upon entry at the airport in New Delhi by India's immigration law enforcement. Twenty-four hours later, he was taken by the Amritsar Police. He is being held without due process.
Americans abroad are protected by international laws and, in theory, cannot be arrested and held unless they violate the laws of the host country. According to Voices for Freedom, Mr. Resham's attorneys in India and his family, the arrest and detention of Resham Singh violates the due process of law under both international and India laws.
In fact, according to the U.S. Embassy website , Indian law requires that the authorities file a First Incident Report (FIR) with the appropriate court describing the charges against them within 24 hours of an arrest. We know that in the case of Mr. Resham, the authority did not do so until November 12, 2016. When his attorney in India, Mr. Simran Singh, and Voices For Freedom raised these and other violations with the Indian government, they refused to release him.
In addition, Indian case law has established that arrests for sedition are prohibited unless there is a finding by a court that seditious acts involved violence or the person charged was inciting violence, states Mr. Simran Singh. When asked about the arrests, the Indian authorities answered "A case has been registered as various anti-national and anti-social speeches were made during the function."
It is unclear whether Mr. Singh was asked incriminating questions, but it is clear that the Indian government may be engaging in torture against Resham Singh in order to make him speak. For example, according to Mr. Resham's family, he was deprived of sleep and forced to sit continuously for days.
In addition, the U.S. Embassy website states that prisoners in Indian can have family and friends stand as surety that he will not flee and will appear in court when summoned. According to Voices for Freedom, despite this fact, and the fact that Mr. Singh is not accused of a violent crime, the Indian authorities have refused to grant bail and his family members and friends were not allowed to post bail to date.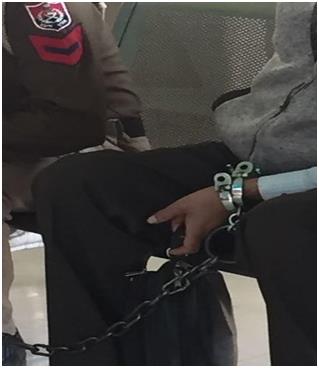 American Bhai Resham Singh held in shackles by Indian Police
 
To add insult to injury, and despite India's Supreme Court authority in cases like Sunil Batra v. Delhi Administration, AIR 1978 SC 1675, Sunil Gupta v. State of Madhya Pradesh, 1990 (3) SCC 119 and Citizens of Democracy v. Assam, AIR 1996 SC 21293: JT 1995 (4) SC 475 rejecting handcuffing as arbitrary and inhumane, the Indian authorities have kept Bhai Resham Singh shackled. According to Simran Singh, "it is pertinent to mention here that Punjab Police took no permission from any Magistrate or court to handcuff Mr. Singh. They have misused their powers at the instructions of Sukhbir Singh Badal, Deputy Chief Minister of Punjab-cum-Home Minister of Punjab, and we will file a contempt petition in court for the unlawful handcuffing today."
 
Protest against mistreatment and abuse against Mr. Singh have gone unanswered or inaction has made his situation worse. U.S and Indian advocates have called the U.S. Embassy in Washington and in India and it is still unclear whether he is receiving proper medication and treatment. Family and friends are not allowed to arrange to have the medications delivered to him. It is unclear whether his requests to speak to the Embassy Consulate in India have been granted.
 
According to the India Times and other Indian news outlets, sedition charges have been used for decades to suppress civil liberties in India and in 2015 and 2016, hundreds of Sikhs were targeted and unlawfully arrested and charged with sedition. These violations of well-established human and civil rights precepts come on the heels of what the U.S. and India newspaper are calling extreme political nationalism that attempts to quash free speech by journalist, students and anyone who opposes the political majority. Freedom of speech and assembly are chilled by these trumped up charges of sedition in democratic India. This should concern us all.
 
Voices for Freedom filed a White House petition today in support of the release of Bhai Resham Singh and asking that the U.S. support Sikh religious rights in India. The petition can be found and signed at https://wh.gov/iehtX.
.
 
We at UNITED SIKHS ask that the United States government offer Bhai Resham Singh the assistance every U.S. citizen abroad is entitled to and that they assist in procuring his prompt release so that he may return home to his family.