Please Be Involved, Click here and Join UNITED SIKHS
To receive forthcoming bulletins join our UNITED SIKHS Yahoo group
To donate go to www.unitedsikhs.org/donate
This Press Release may be read online at: http://www.unitedsikhs.org/PressReleases/PRSRLS-07-04-2006-00.htm
Press Release: Friday, 7th April 2006, 25 Chayat (Samvat 538 Nanakshahi)
UNITED SIKHS Helps Illinois Fitness Instructor Secure his Right To Wear a Turban at Work
Darein, Illinois, USA – UNITED SIKHS successfully intervened to ensure that a fitness instructor, Harmeet Singh, was able to wear his Turban at work after he was told by his employer last month that he would have to remove his Turban, a required article of the Sikh faith.

Harmeet Singh, a personal trainer at Darein X Sports Fitness Center in Illinois, was notified by his supervisor on the third day of his employment that according to company policy, no employee was allowed to wear a head covering.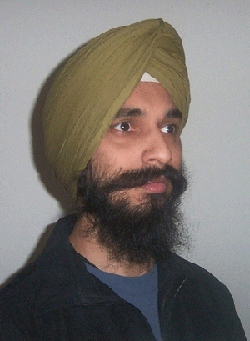 Harmeet Singh: Illinois Fitness instructor who sought UNITED SIKHS' help to fight for his right to wear his turban at work
"This came as a shock to me as I had worn my Turban during XSport's training sessions and also during a National Personal Training Certification course offered by NCSF (National Council for Strength and Fitness). Before signing up, I was assured that I would be hired to work as soon as I receive the study material from the NCSF," said Harmeet Singh.
"On March 23, 2006 one of the XSport's Director by the name of Bill approached me and told me that it is the company's policy that while at work one cannot wear any head covering including the Turban as XSport is not a religious organization," he added.
Harmeet Singh explained the significance of the Turban to his supervisor who referred him to the Company's handbook on the Dress Code.
"I contacted UNITED SIKHS as I felt unable to reason with my supervisor," Harmeet Singh said.
"UNITED SIKHS was pleased to find that despite the supervisor's stance, X Sports Fitness Center's had a Corporate Equal Opportunity and Non-Discrimination Policy that provided for an employee's religious rights at the workplace as protected by the Illinois Human Rights Act," said Tejinder Singh, UNITED SIKHS Legal Advisor.
"We helped Harmeet Singh draft a letter citing the law and company policy and a few days later Harmeet Singh got the good news from his supervisor that he will be allowed to wear his Turban at work," Tejinder Singh added.
We have written to X Sports Fitness Center to applaud them for being quick to comply with their policy which is consistent within the state and federal laws. Click here to read letter.
If you or anyone you know has been discriminated against in the school, university or workplace, please contact UNITED SIKHS at contact@unitedsikhs.org or call 1-888-243-1690 for assistance.
To read a previous Press Release on UNITED SIKHS' advocacy for Sikh religious rights, click http://unitedsikhs.org/PressReleases/PRSRLS-29-12-2005-00.htm
Issued by:
Manwinder Singh
Director, International Civil and Human Rights Advocacy Directorate
UNITED SIKHS
---
Our Mission
To transform underprivileged and minority communities and individuals into informed and vibrant members of society through civic, educational and personal development programs, by fostering active participation in social and economic activity.
UNITED SIKHS is also an avenue for networking between like-minded organisations to establish and nurture meaningful projects and dialogues - whether social, cultural or political- to promote harmony, understanding and reciprocity in our villages, towns and cities.
UNITED SIKHS is a coalition of organisations and individuals, who share a common vision based on the belief that there is no greater endeavour than to serve, empower and uplift fellow beings. The core of our philosophy is an unwavering commitment to civic service and social progress on behalf of the common good.
Accordingly, UNITED SIKHS has sought to fulfil its mission not only by informing, educating and uplifting fellow beings but also by participating in cross-cultural and political exchanges to ensure that the promises and benefits of democracy are realized by all.
We at UNITED SIKHS believe that the development of enlightened and progressive societies can be made possible by socially conscious groups of people who make a commitment to develop and direct human potential. Our work, efforts and achievements stand as a testament to our faith in this vision.