Sikh Leaders Discuss Civil and Human Rights Issues during a Town Hall at Charlotte
Charlotte, NC, USA: Sikhs leaders from California, New York, North Carolina, South Carolina and Georgia got together in Charlotte to discuss important Sikh civil and human rights issues. The delegation of twenty Sikh delegates from CA and NY met with over forty community leaders representing different parts of NC, SC and GA.
The objective of the town hall session was to identify and share issues that will be presented during upcoming Sikh Summit scheduled on Oct 1st – 5th in Washington DC. Key issues impacting the Sikh community in the United States after 9/11, especially following the Wisconsin shooting, were discussed. There was also an opportunity to hear about the collective action the California community had taken to address those issues.

Top issues that were identified and discussed included curriculum changes in schools, school bullying, hate crime tracking, employment discrimination, increasing awareness about our identity, counting Sikh as an independent category in the next census, need for community collaboration and hiring of Sikhs in army and other uniformed professions.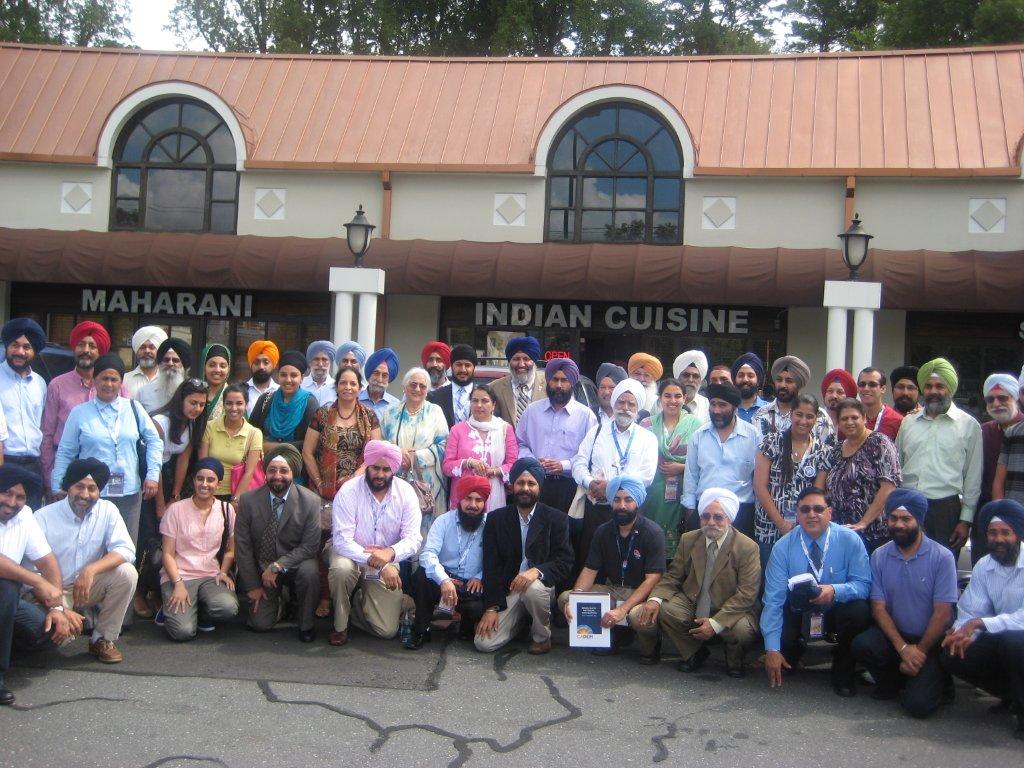 Commenting on the summit, Pawanjit Singh, Secretary, UNITED SIKHS stated, "It is important for Sikhs to advocate for their civil and human rights and to get involved in the political process. We need to bring the awareness to our law makers, the law enforcement agencies, our teachers and other fellow Americans." Harpreet Singh, Director, Legislative Affairs, UNITED SIKHS added, "We know that answers lie in increasing awareness, speaking up and keeping the Government informed of the challenges Sikhs face, both domestically and internationally. This is what we discussing here today, so we can make change in law and policies of this country."

Dr Parminder Kaur stated, "On behalf of the Sikh Gurdwara of North Carolina, Durham NC, we thank UNITED SIKHS for inviting us to the town hall meeting in Charlotte NC. It was good meeting the Sikh Delegates from CA and NY, who had come to attend the DNC being held in Charlotte NC. We had a healthy dialogue and exchange of ideas. We were convinced that they will represent all Sikhs when they talk to their elected representatives about issues facing us as Sikhs."

Dr Surendrapal Singh, President, Charlotte Gurdwara, said, "I welcome Sikh American delegates who have come here to Charlotte to participate in DNC. Their presence & distinguished look will bring more awareness about us. Their dedication and the effort is commendable, I congratulate them on their achievement." Stressing the need for educating others about Sikh identity, he further said, "Every Sikh must actively educate our colleagues, neighbors, peers, clients and others who we come in contact with".

Kuldip Singh, President of UNITED SIKHS stated, "I want you all to be aware that UNITED SIKHS will be working across party lines as the task at hand is huge. We can't afford to lose one more life. Your voice and opinion will continue to pave the way forward for justice and freedom and continue to define Sikh civil advocacy agenda".
UNITED SIKHS also used the opportunity to continue to drive "I Pledge Against Hate Crime" signature campaign. This campaign is being done in several states and all banners with signatures will be sent to President Obama and to the Wisconsin Gurdwara.
UNITED SIKHS will be conducting similar town hall meetings in other regions across USA. Please contact us to report your concerns by email at law-usa@unitedsikhs.org or by phone at 888-243-1690.
Issued By:
Pawanjit Singh, Secretary and Director, UNITED SIKHS
Tel: 1-646-688-3525;1-888-243-1690
Fax: 1-810-885-4264
Email: unitedsikhs-usa@unitedsikhs.org