Please Be Involved, Click here and Join UNITED SIKHS
To receive forthcoming bulletins join our UNITED SIKHS Yahoo group
To donate go to www.unitedsikhs.org/donate
Press Release: 10 April 2006, 28 Chayat (Samvat 538 Nanakshahi)
UNITED SIKHS Helps 8 year old French Sikh Schoolboy Fight Pressure to 'Integrate' by Cutting his Hair
Paris, France – UNITED SIKHS has successfully intervened to ensure that 8 year-old French schoolboy, Harjeet Singh, is able to wear his Rimaal (handkerchief on his top-knot) to his elementary school, after his father was told by the principal that he would have to remove it and "make an effort social to cut his hair to facilitate the integration into French society of the young boy, who had just arrived from Panjab."
The schoolboy's father, Nanak Singh said, "I contacted UNITED SIKHS as I felt unable to reason with the principal of the Jean Jaures elementary school in Le Bourget, in the northern suburb of Paris. My son has just arrived from Panjab and we felt under pressure." Harjeet Singh who wears a Patka at all times outside school (See pix) was prepared to wear a Rimaal in order to gain admission in a public school.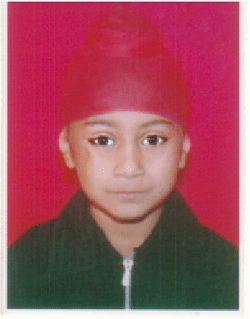 Harjeet Singh
"UNITED SIKHS and the French Turban Action Committee called a meeting with the principal of the elementary school and reminded her that the Rimaal was not considered an ostensible sign under the law which banned ostensible religious signs in schools," said Kudrat Singh, president of the UNITED SIKHS chapter in France.
"However, at this meeting, which was also attended by Harjeet Singh and his father, the principal did not take accept our arguments and did not let the young Harjeet Singh into class. Instead she repeated her suggestion that Harjeet Singh has to cut his hair in order to facilitate his integration into French society. She said it would be an 'effort social' of the family," Kudrat Singh added.
UNITED SIKHS immediately wrote to the District Education Inspector of Seine St Denis, Mr Delaubier, to report the incident. It was followed up with a phone call to Mr Gilles Pallaird, the deputy inspector, who informed Kudrat Singh that the Education Ministry does not consider the Rimaal a banned ostensible sign and that the principal was obviously not aware of this. He gave an undertaking to arrange with the principal for Harjeet Singh to be admitted into school.
"I wrote a letter to Mr Pallaird for a written confirmation of his undertaking. I also sent him a presentation pack prepared by UNITED SIKHS on the requirements of the Sikh religion and details of French Sikh history," said Kudrat Singh.
The next morning UNITED SIKHS received a call form Mr Pallaird that arrangements have been made and that Harjeet Singh would be admitted into school, when it reopens after the Easter holidays.
Kudrat Singh said, "The concept of integration promoted by this principal was not only irrelevant but also illegal and it violated basic human rights. We have to face the double jeopardy of a law which banned the Turban and also the ignorance of school authorities about the extent of the ban."
To read a previous Press Release on UNITED SIKHS' advocacy for Sikh religious rights in France please click http://unitedsikhs.org/PressReleases/PRSRLS-02-03-2006-00.htm
Issued by:
Kudrat Singh
Director
UNITED SIKHS
Tel: 0033 147008441
---
Our Mission
To transform underprivileged and minority communities and individuals into informed and vibrant members of society through civic, educational and personal development programs, by fostering active participation in social and economic activity.
UNITED SIKHS is also an avenue for networking between like-minded organisations to establish and nurture meaningful projects and dialogues - whether social, cultural or political- to promote harmony, understanding and reciprocity in our villages, towns and cities.
UNITED SIKHS is a coalition of organisations and individuals, who share a common vision based on the belief that there is no greater endeavour than to serve, empower and uplift fellow beings. The core of our philosophy is an unwavering commitment to civic service and social progress on behalf of the common good.
Accordingly, UNITED SIKHS has sought to fulfil its mission not only by informing, educating and uplifting fellow beings but also by participating in cross-cultural and political exchanges to ensure that the promises and benefits of democracy are realized by all.
We at UNITED SIKHS believe that the development of enlightened and progressive societies can be made possible by socially conscious groups of people who make a commitment to develop and direct human potential. Our work, efforts and achievements stand as a testament to our faith in this vision.