KNOW YOUR RIGHTS WORKSHOP – A SUCCESS!
Highlights:
UNITED SIKHS holds KNOW YOUR RIGHTS Workshop in Seattle, Washington at the Gurdwara Singh Sabha of Washington. KNOW YOUR RIGHTS informational booklet provided to all attendees.
Representatives from several Law Enforcement Agencies attended and addressed the congregation including Ms. Christine Pool, US Citizenship and Immigrations Services; Mr. David Rubincam and Mr. Marty Prewett, the Federal Investigations Bureau; and Mr. Michael Diaz, US Attorney's Office.
Click here for immediate access to detailed informational booklet KNOW YOUR RIGHTS
Help spread the word and pass on the booklet to your friends and family to help protect the civil and human rights of all.
Please support our advocacy work so we can continue to fight for all minority civil and human rights globally.
Seattle, Washington- "Know Your Rights," a series of workshops sponsored by UNITED SIKHS to be held throughout the United States, was a success bringing together approximately 100 attendees at the Gurudwara Singh Sabha of Washington, 5200 Talbot Rd S. Renton, WA, on Saturday, March 30th, 2013. This series of workshops will educate and empower those about their rights when encountered with various law enforcement agencies.
Manmeet Singh, Staff Attorney, UNITED SIKHS, addressed the congregation informing them of their rights. "It is imperative that the community is aware of these basic rights, which they are entitled to as US citizens, or by virtue of them living in this great nation," he proclaimed. "Being aware of these rights will lead to a better feeling of being part of the US mainstream, and help in making informed decisions and tackling unpleasant situations effectively, as and when they arise."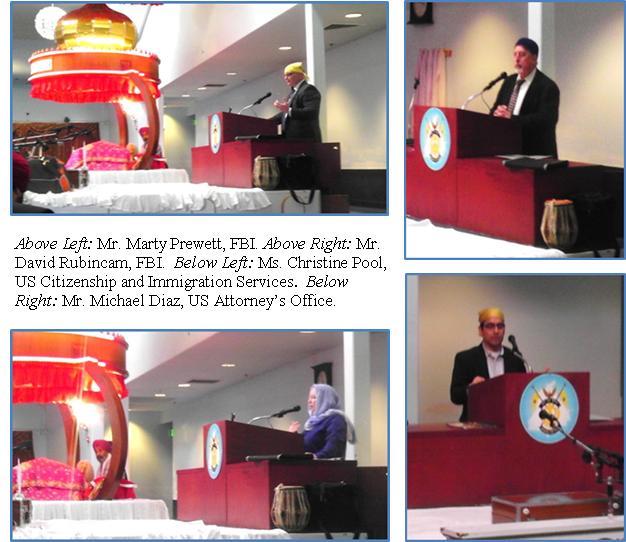 Mr. David Rubincam, a representative from The FBI touched on many topics and the reasons why victims should cooperate with officials. He said, "There are many issues that we resolve only with the help of people living in a certain local community."
The two-hour informative workshop brought officials from The Church of Scientology, the United Nations Association, the US Attorney's Office, US Citizenship and Immigrations Services, the US Customs and Border Control, and the Federal Bureau of Investigation.
Ms. Christine Pool, USCIS, addressed the congregation about immigrations laws. "Please be watchful of unscrupulous immigration law practitioners. Please make sure that they are attorneys in good standing or accredited representatives before you authorize them to handle your case."
Included in the workshop was the President of the Gurudwara Singh Sabha, Mr. Gurdev Singh Mann, along with other members of management. Mr. Mann applauded UNITED SIKHS for taking the initiative to inform his patrons. He said "Our community gained a lot from this workshop and I promise to provide full support for similar events in the future."
Each attendee also received the 'Know Your Rights' booklet and was given a presentation provided by the Legal Team from UNITED SIKHS.
UNITED SIKHS is excited about the success of the workshop and encourage you to reach out to us at law-usa@unitedsikhs.org if you wish for this workshop to be held in your town/city.
Issued By:
Manmeet Singh
Staff Attorney, International Civil and Human Rights Advocacy (ICHRA)
UNITED SIKHS
law-usa@unitedsikhs.org
Tel: (646) 688-3525
Contact us | Follow us on Facebook and Twitter
unitedsikhs-canada@unitedsikhs.org