What Vaisakhi Means to Sava-Lakh UNITED SIKHS Volunteers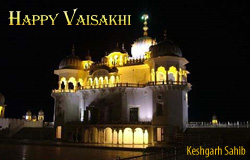 For many years now, my family has celebrated Vaisakhi by taking a day off from work or studies and travelling to my home town to celebrate this special day with the whole family. After our prayers at home, we exchange presents and sit down to a family breakfast before heading to the gurdwara for a day of spiritual celebration.
This year, I am thousands of miles away, doing UNITED SIKHS projects in India. I just tried calling home and no one answered. Due to the time difference, I have missed my family who have gone to the gurdwara and switched off their phones. I miss Vaisakhi with my family. It also coincides with my mother's birthday, thanks to the Nanakshahi calendar. I will, instead, celebrate Vaisakhi today, through this 'pen and paper', by recalling the sava lakh spirit in every Sikh- in fact the spirit in every humanitarian being.
The spirit of the Khalsa that was revealed to Sikhs on this day in the Anandpur Hills in 1699, is captured in the following stanza: "Sava lakh Sae Aek Leraoo Tabee Gobind Singh Naam Kehaoo" : Only If I can take on a battle against 125,000, alone, may I call myself Gobind Singh." The Panj Pyarae ('Five Beloved') who, in 1699, rose to the challenge of the 10th Sikh Master - Guru Gobind Singh, stood up in the spirit of Sava Lakh. They stood up for all of us today.
Jaipal Singh, a UNITED SIKHS volunteer from USA who returned last week from Port-au-Prince after leading our relief mission in Haiti, said in his closing report:
| | | |
| --- | --- | --- |
| | | |
| Volunteers distributing Hot Meals | | UNITED SIKHS AID team in Port-au-Prince Base Camp |
"I have found new meaning in our tradition of one Sikh equalling "Sava Lakh."
He continued, "Our continuous Langar Seva has reached several hundred thousand individuals over the past few months, and our ongoing efforts to provide tent shelters, dry food goods, water, and other supplies has helped reached hundreds of families in the past several weeks. I have been able to witness the money and support from our Sikh community manifest itself directly in the lives of those who truly need it, and have heard the stories of several hundred individuals who are truly thankful to receive the aid and support that our UNITED SIKHS Ground Team here in Haiti has offered. Our presence here in Sonapi, and around Port-au-Prince is larger than we probably know. I continue to run into individuals across the city, in government offices, at the United Nations complex, and even at the local Haitian markets who are aware of and impressed by the efforts of the UNITED SIKHS. Despite our small numbers, we have been able to affect the lives of many individuals."
Jaipal's spirit is a reflection of the spirit of Sikhs around the world who rise to the challenge of being a nation of 25 million people, spread throughout the world. Sikhs continue to face the challenge of wearing their five Kakaar or 5 Ks – Kesh (unshorn hair), Kanga ( small wooden comb) , Kara ( iron or steel bangle) , Kirpan (to protect and provide justice by defending the truth ) Kecchaera ( cotton breeches). This challenge, which has resulted from a post 9/11 phobia of religion, is an opportunity for the sava lakh Sikh spirit to express itself. During the partition of Panjab in 1947, this seva lakh spirit guided Sikhs who left everything behind in West Panjab and started life afresh in East Punjab, knowing the value of One Rupee. Today young Sikh students in France, Belgium, UK and USA are defending their right to wear their Kakaar – often standing alone. We now await a decision from the United Nations Human Rights Committee for three cases that UNITED SIKHS lawyers filed in 2008, for the French Sikhs' right to wear their turban.
Our volunteers rise to the challenge as Sikhs in UK and USA face census surveys this year, which fail to enumerate them as a distinct group. We are also fighting for Sikhs in Peshawar who continue to face the onslaught of violence from the Taliban, alone, as three were murdered in the last few years – because they are Sikhs.
Harmail Singh, Lucky, Birmohan Singh, Harbhajan Singh, Pritpal Singh (Gurudwara Glenrock, NJ) present while shipment take off for Haiti
As we celebrate Vaisakhi, we are reminded of our purpose in this world through Anand Sahib, one of the 5 banees ( prayers) that are read daily by a Sikh:
"Eh Sereera maeraeya, Es Jag Mae Ayaekae, Kya Tudh Karam Kamaeya": Oh, this body of mine, what have you earned through your actions, since you came into this world? We are reminded that a human being is a spirit which is embodied in action: A spirit that fights 125,000 in a battle for righteousness.
UNITED SIKHS is organizing the Sikh Summit 2010 from May 3rd to 7th, 2010 in Capitol Hill, Washington DC where the participating members of the Sikh Delegation will meet with US Congressmen and Senators from different regions and share the concerns of the community with our lawmakers. We want to take this opportunity to invite everyone to the Sikh Summit.
We would like to thank everyone for their continued support, without which our sava lakh spirit will face a challenge from within.
By: UNITED SIKHS sava lakh volunteers
Contact Us
UNITED SIKHS encourages the Sikh community to wear their kakaars, fearlessly exercise their freedom of religion, and to contact us with any problems, concerns, or incidents of discrimination.