Mandave Singh, UNITED SIKHS' therapist volunteer from the Midlands in the UK, arrived in Nepal in December to help the quake survivors heal after losing loved ones and their homes. Rebuilding their physical homes was one thing, but Mandave Singh believed that rebuilding the inner home of their soul to bring stability to their minds would be a great challenge. However, he soon saw that the survivors' spirit had withstood the earthquake.
"When UNITED SIKHS saw an opportunity to return to Nepal last year, after having provided medical aid to the villagers in the immediate aftermath of the quake, we wanted to reach out to the soul of Nepal, to its beautiful and resilient people," said Mandave Singh, who conducted a month long 'sound therapy' for the people of Bungamati, a small village just outside Kathmandu. He was accompanied by his wife, Sundeep Kaur, a lawyer who spent her time working with children in Bungamati who had hearing and speaking difficulties.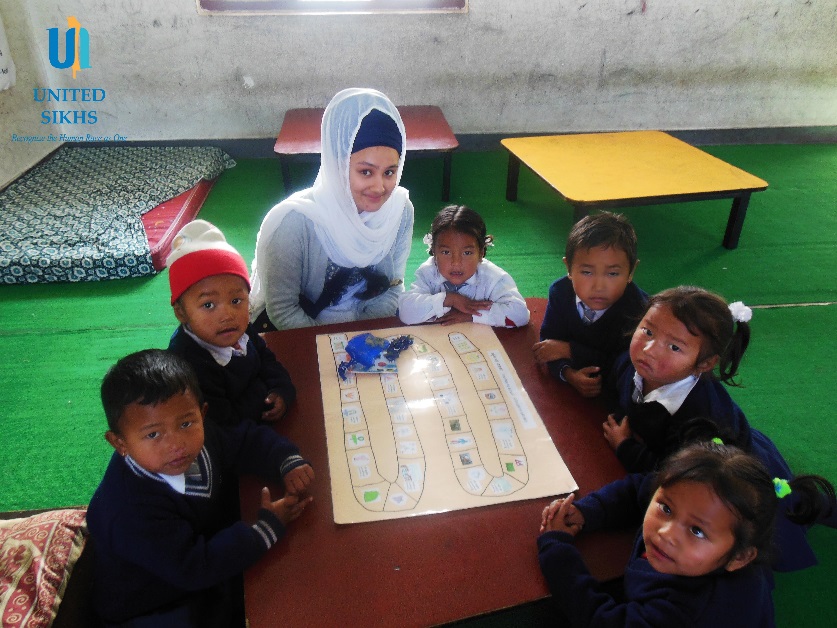 Sundeep Kaur working with children with hearing impairments
A month before Mandave Singh and Sundeep Kaur arrived in Bungamati, Dr. Tom Skurky, a psychotherapist and lecturer from the USA, our first volunteer counsellor, had provided counselling to male survivors in the same village. He found that multiple families living together in temporary shelters, had left many women vulnerable to abuse. To tackle this, UNITED SIKHS partnered with the United Nations Population Fund (UNFPA) to provide counselling in the "Female Friendly Spaces (FFS)", where locals were given support and education to overcome such issues. Tom Skurky had decided to 'swing the dragon by its tail' and tackle violence against women by counselling a men's group, giving them education, support, and inspiration to vow that they would never again harm women in such a way.
"Tom Skurky had set the perfect foundation for my work, to then deal with the underlying reasons for domestic violence and to ensure that the men have the inner stability to truly live up to their vows," said Mandave Singh, who used his 16 kilo gong as a tool for his sound therapy. You may view a short video clip here
Mandave Singh met the male villagers at 7.30am each morning in the freezing cold at the oldest Vihara (Buddhist temple) whilst Sundeep Kaur worked with children with hearing impairment in a hostel nearby.
"After being encouraged with the results of sound therapy on the men, I wanted to see if it would work on the children with hearing impairment. I wasn't sure how it would turn out but once the gong sounded, everything changed. The noisy children went silent, seemingly in a deep state of relaxation like any other during this type of healing," said Mandave Singh.
"This was the first surprise. Once the healing was over, the children woke up with smiling faces even more radiant than before. They were then asked to describe how they felt - I was most fascinated by the reaction of the children with hearing impairments. The majority said they felt a warm vibration, and others even 'heard sounds', which made them feel deeply relaxed," said Sundeep Kaur.
"By the end of our stay, we realised that the villagers had given us more by being themselves than we had come to give," she added.
UNITED SIKHS volunteer Mandave Singh and Sundeep Kaur giving
Sound Healing Therapy to with children with hearing impairment
This to me is something very special, as it shows that regardless of language, hearing ability, or any other perceived obstacles, the very root of sound, the vibration itself, bring us all together to heal and uplift us all, regardless of anything else.
You may read more about UNITED SIKHS work in Nepal at http://unitedsikhs.org/Nepal-Relief-Effort/