My Mai Bhago Inspiration : Vivek Singh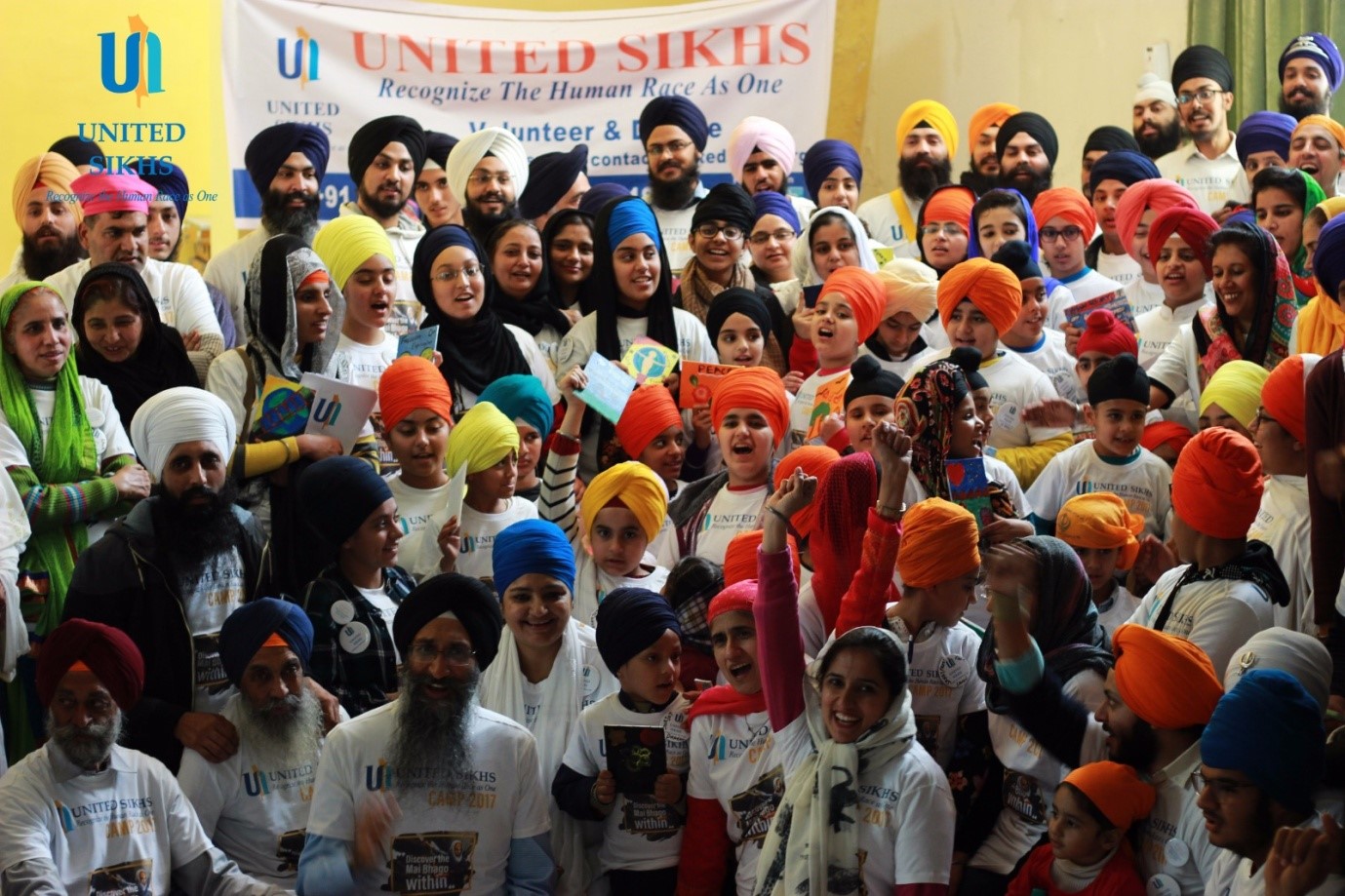 A group picture before we said bole so nihal for the next camp, singing 'We are Mighty Khalsa...'
My son, Viraat Singh, said: "I now recognise myself as the son of the King of Kings, Dasmesh Pita Guru Gobind Singh Ji, and I made so many new friends, it was the most satisfying weekend for me. I look forward to the next UNITED SIKHS camp."
Watch a snapshot video on the Mai Bhago Camp in Gurgaon here
Dear Friend,
Every New Year, I make resolutions and seek blessings of the Almighty by visiting a Gurudwara. This year was not very different. In the first week of January, I went to Sri Darbar Sahib, Amritsar, with my family, to express my gratitude for everything that was given to me by the Almighty. On returning to Gurgaon, I started thinking what could I possibly do that would make the Supreme Being happy with me. As my mind dwelled on the idea of doing things that make God happy, I came across a poster of a Camp being organised by UNITED SIKHS at Gurudwara, South City 1, Gurgaon on 14th and 15th January 2017. I felt that this camp could possibly tell me how to connect and please God. I had never attended a Sikhi camp before.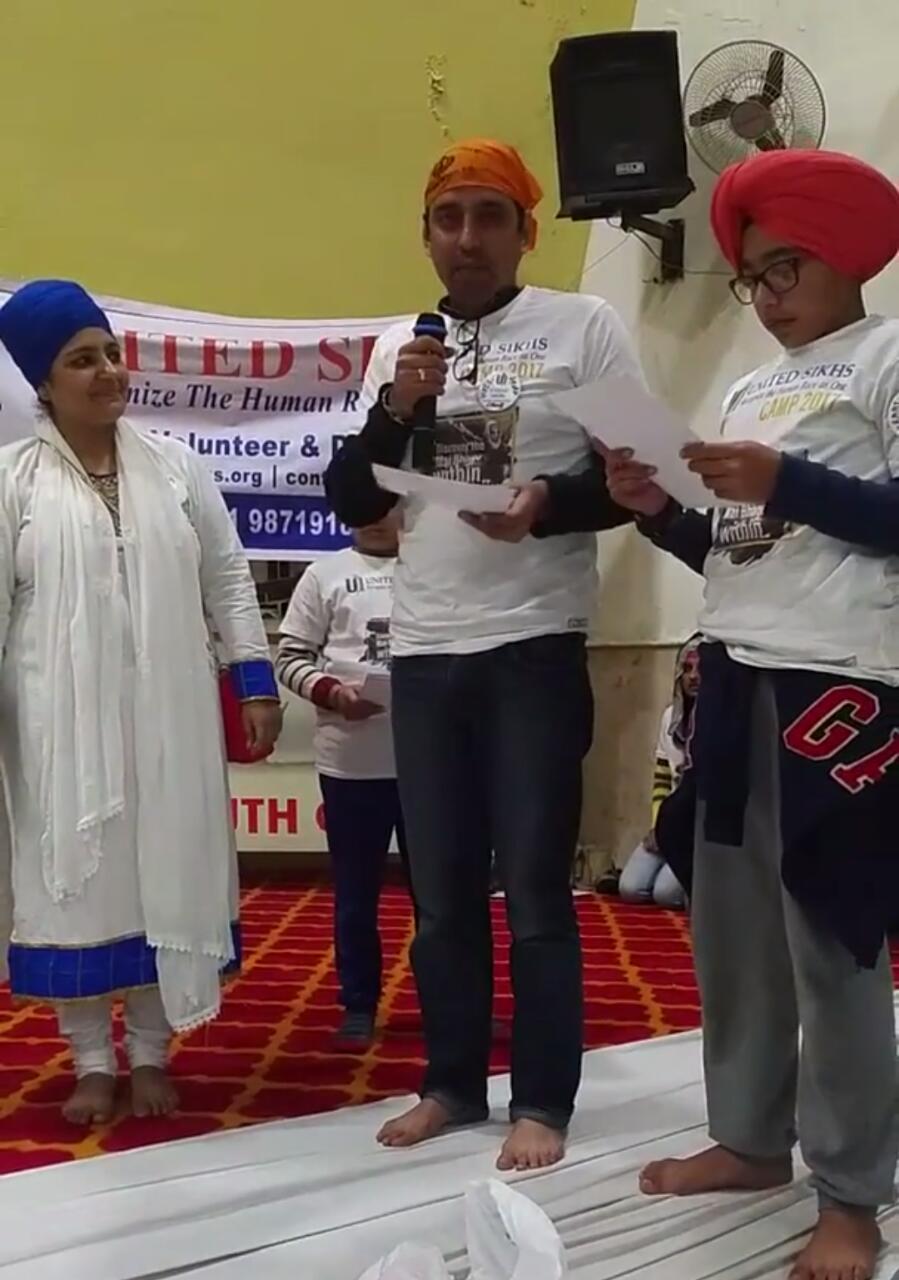 Vivek Singh and his son Viraat Singh, sharing their experience at the camp
I attended the camp with my eleven year old son, Viraat Singh, after the organisers accepted our late application. The theme of the camp was "Discover the Mai Bhago within". I first discovered who Mai Bhago was when Suneet Singh, CEO of DataWind Inc, the company which gave the "Aakash" tablet, gave an inspiring talk on what is means to be a Mai Bhago. The inspiring story of the 18th Century brave Sikh warrior woman, Mai Bhago, who with forty Sikh warriors had fought off the mighty Mughal army of thousands, made me think that we all have Mai Bhago moments in our life, when we have to understand our potential and take leadership positions. I wondered if the Camp would show me what my Mai Bhago moment could be this year.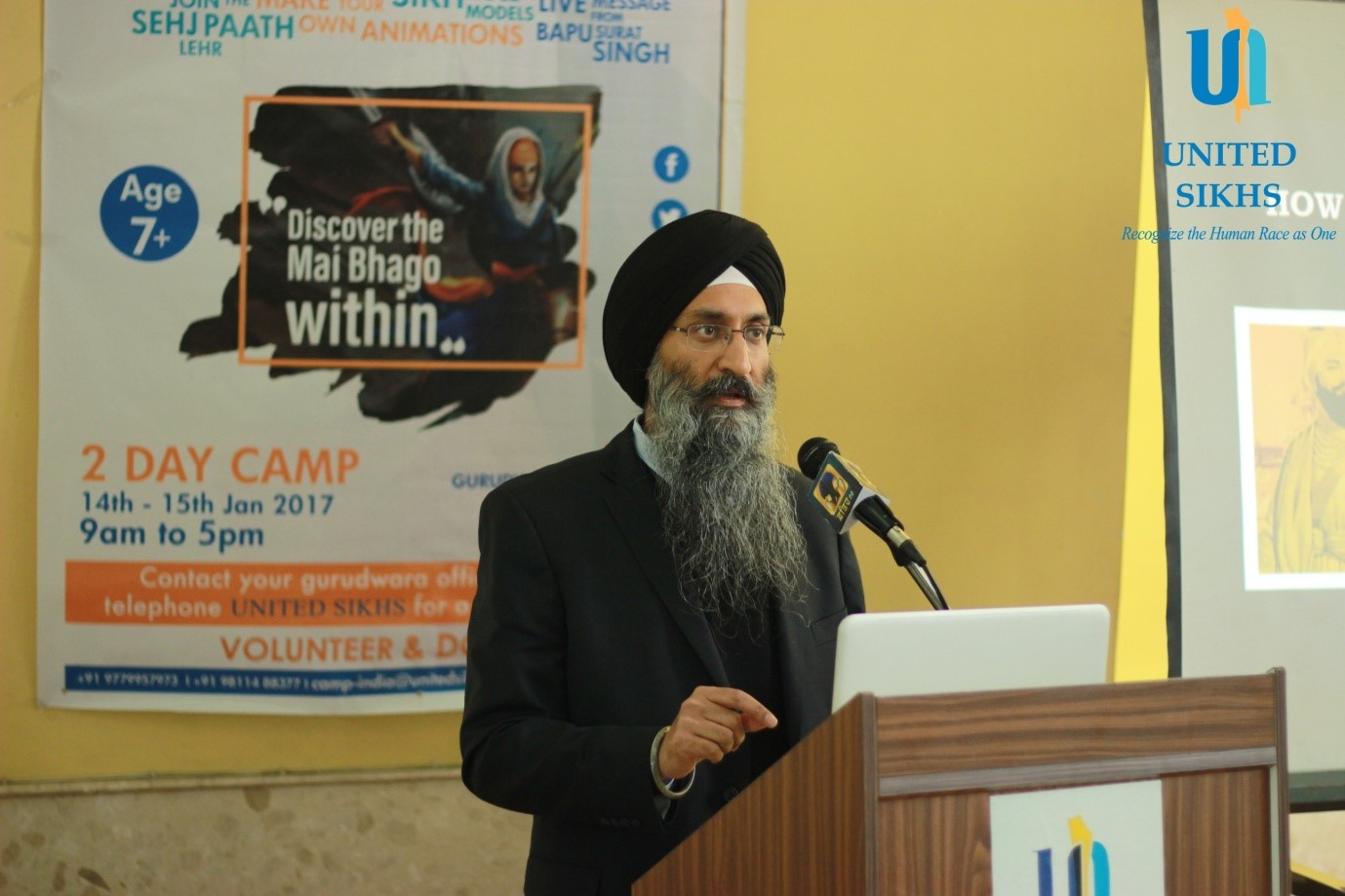 Suneet Singh, CEO of DataWind Inc, on being Sikh and Successful with the Mai Bhago spirit
Viraat and I learnt how to tie a turban for the first time and Jatin Singh, the instructor, shared with us how the turban makes us distinct as opposed to different. Ocean Singh, a MTV Roadies Star from Gujarat, made us realise that self-defence and shastar vidhya was not an option but a necessity.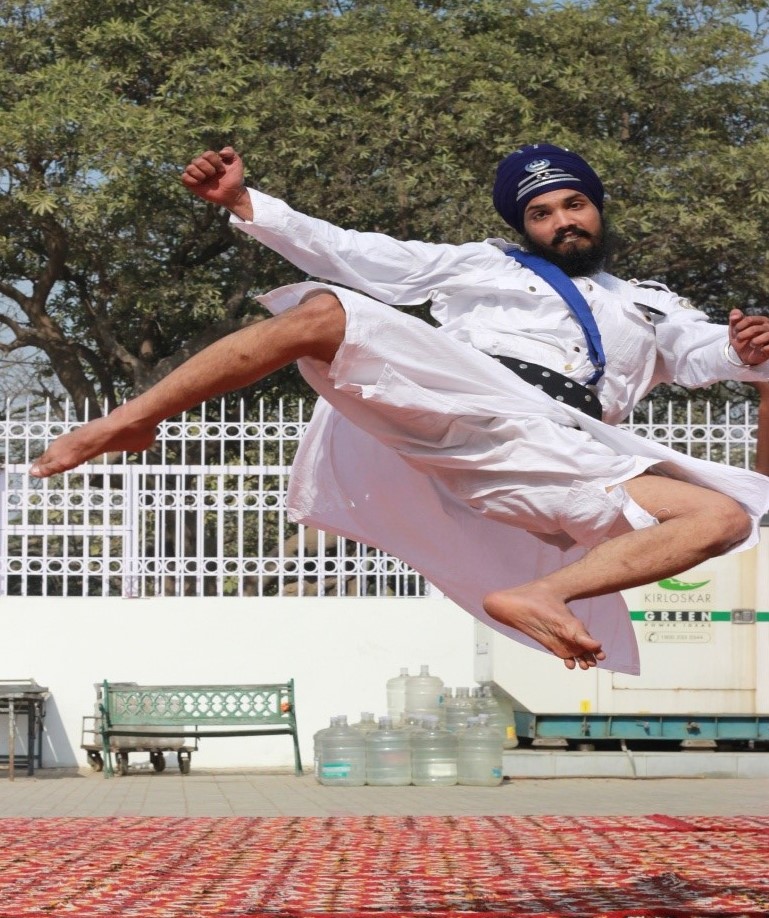 MTV Roadies Star from Gujarat, Ocean Singh, off to a flying start with his martial art workshop.
Throughout the two-day camp, I became aware of how UNITED SIKHS practises its motto based on the 10th Sikh Guru's mandate: 'Recognize the Human Race as One'. Volunteers spoke about the Rescue A Family pensions for farmer suicide widows, STARAE scholarships for Siklighar kids, advocacy for the right to wear a turban or Kirpan, humanitarian relief in far off places like Haiti, Macedonia and Syria. This opened a whole new world for me. As a Senior Media Professional with one of the world's largest media company, I have travelled to hundreds of towns and territories, which have helped me deeply understand religious and cultural sensitivities. But at this camp I was starting to learn about my own religious identity and spirit.
Rishiwant Singh of Malaysia and Komal JB Singh of Kashmir touched my heart when I heard them recount how they at times arrived alone in a disaster zone and used their 'seva lakh spirit' (the spirit of One against 125,000) to serve in UNITED SIKHS' humanitarian missions across the globe. And I was not just in awe of them; they inspired me to believe I can do it too.
Rattan Deep Singh, a Chartered Accountant with PwC, spoke of his own experience last summer, when he was told that he would not be allowed to wear his Kirpan in the examination hall. He was so inspired by UNITED SIKHS' advocacy services that had resulted in overturning the ban against his Kirpan that he joined their community advocacy team to help others. At the Camp he distributed a UNITED SIKHS advocacy Help Card. We heard from Jagdeep Singh Turbanator, a Delhi cyclist, who was banned from a cycling event because he wore a turban. I met the lawyer and activists who were taking up Jagdeep Singh's case. I was in the company of humanitarian warriors.
And whilst I was discovering the challenges to the Sikh identity in India, My son Viraat and 30 other kids were each painting their views on the UN Declaration of Human rights (UNDHR), under the guidance of artists Jyoti Singh and Natasha Kaur. He was most excited to learn that under article 24 of the UNDHR, there is a 'Right to Play'. They were then treated to fun and games by Arwinder Kaur of Fateh TV who refereed Kids games and quizzes. He also learnt Panjabi in an hour through a special technique taught by Pardeep Singh and JP Singh of Bibek Trust.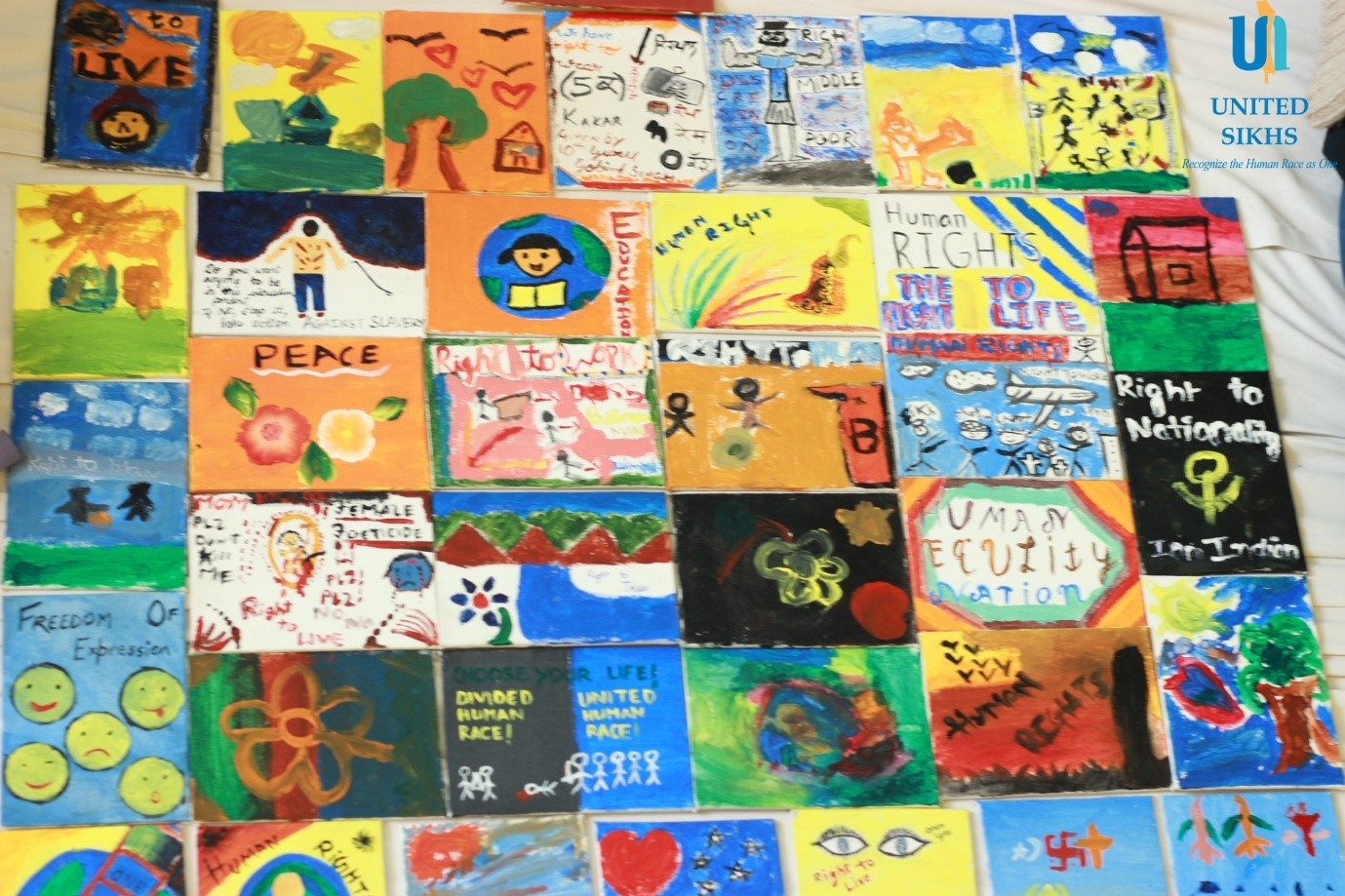 A tapestry on human rights in acrylic by kids at our camp
On the second day, Bhai Esher Singh of Hyderabad, made us 'relearn' the mool mantar of Japji, the first Sikh prayer. He explained the distinction between 'Gur' and 'Guru'. I felt it was my first day at school. I could see that JP Singh a volunteer from Kashmir was doing a live broadcast via Facebook, and I knew so many others were sharing my experience.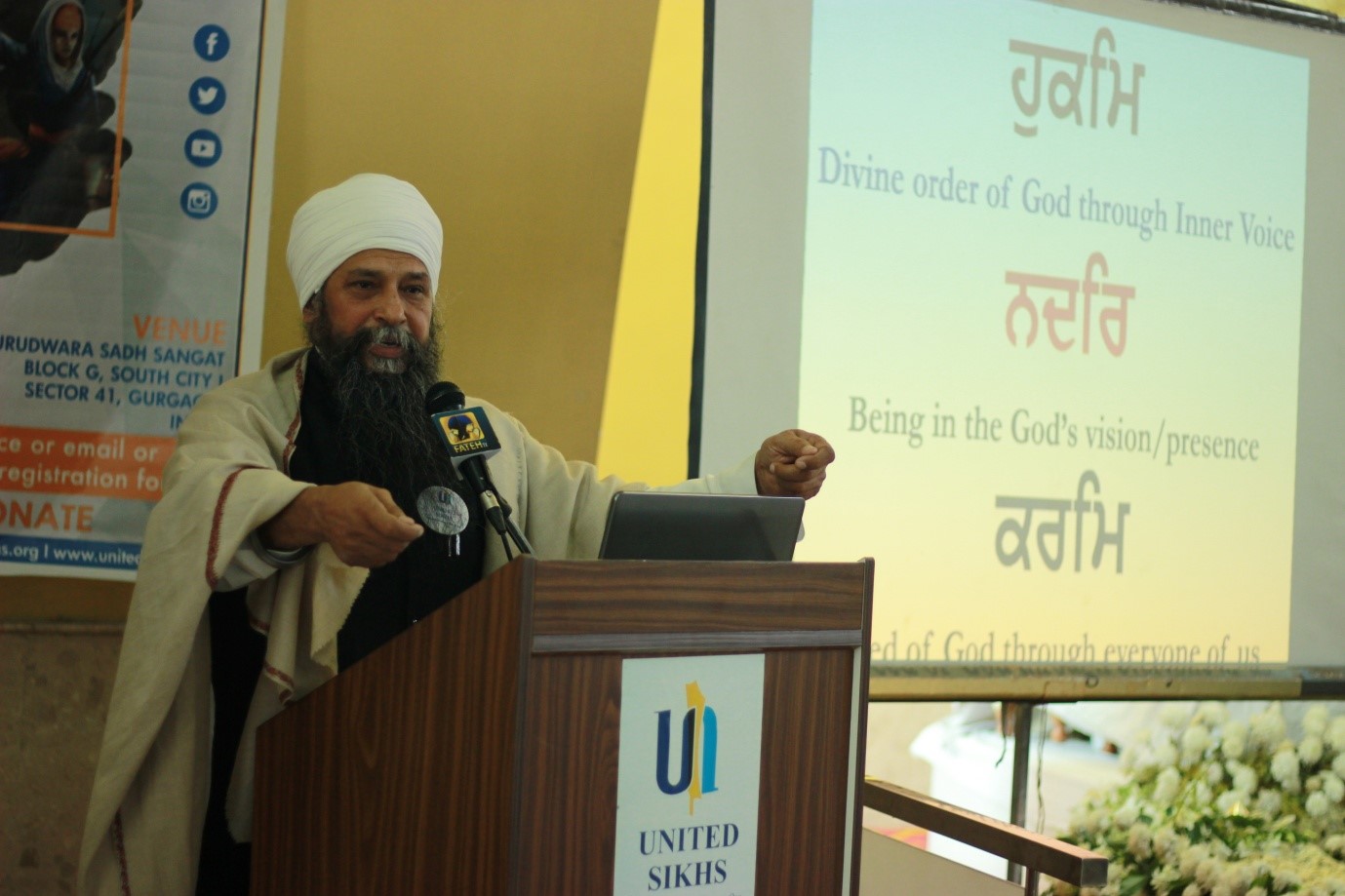 Bhai Esher Singh of Hyderabad helping us "relearn" Japji
We then saw ourselves marching to the battle ground, singing 'We are Mighty Khalsa, Mighty Mighty Khalsa, Everywhere we Go-o People Want to Know-o, Who We Are, So We Tell Them...' Our battle was an outdoor debate in the winter sun. We were divided into two groups: one proposed that the martyrdom of Guru Teg Bahadur Sahib ji, the 9th Sikh Guru, only defended religious freedom. That was my group. The other group argued that Guru Sahib's martyrdom defended almost all the articles of the UNDHR. Guess who won? We broke up for lunch filled with the inspiration that in 1675 Guru Ji gave his life to defend the freedom of expression well before the French philosopher Voltaire famously said: 'I disapprove of what you say, but will defend to the death your right to say it.' We ate our Maghi da langar of khiccheree, saag, makki di roti and kheer. This was specially provided by the Gurdwara and arranged by local volunteers Jasmeet Singh and Harbhajan Kaur. We also received Maghi traditional titbits in a goody bag comprising, raehreeya, popcorn, gachak, paetha and ground nuts, which had been lovingly packed by camp volunteers Sardar HarsharanSingh and Sardarni Gurdip Kaur. And we felt like kids all over again.
During our langar break, I had an opportunity to view the photo exhibition on Guru Gobind Singh Ji that was arranged for the Camp by Amarpreet Singh of Team Faiz e Noor, to commemorate the 350th birth anniversary of the 10th Guru.
Our concluding workshop, 'Being Sikh and Successful', was hosted by our most amiable emcee, Navneet Kaur, member of Chief Khalsa Diwan Amritsar. We heard Suneet Singh of DataWind and Harpreet Singh, manager at PwC speak of how their Khalsa form in the corporate world was a boon. 'I am who I am Because of my turban and not despite my turban,' Suneet Singh said in response to a question. Avneet Kaur, a well-known Delhi-based family counsellor and Basics of Sikhi volunteer, spoke of the need for parents to instil human pride in their kids. Maninder Singh, Photographer/Designer of Basics of Sikhi shared photos he took during an off season trip to Hemkunt Sahib. Gurbrinder Singh spoke on the various successful projects that Sikhi Sidhak is doing in Delhi. Mejindarpal Kaur, International Legal Director of UNITED SIKHS, said in her concluding remarks: 'Being a Sikh was Being Successful'.
I found during the camp what I was looking for as my New Year's resolution: How to make the Almighty happy. It was revealed in the shabad sung at the start of the Seva Simran Workshop, conducted by Mejindarpal Kaur and Camp Coordinator, Rhythm Kaur: Taeri Seva Taeri Seva, Taeri Seva, Mukt Bhugat, Jugat Taeri Seva. Translated it means: serving Him was Seva and the way to eternal happiness. The shabad went on: Jis tu aap kerahae... Only he who is blessed with seva can do it. So I have decided, for a start, I am going to start donating my desvandh (tithe). For this, I will use the UNITED SIKHS Rescue a Family donation box, into which my family will empty out all our coins in our pockets and purses, before we leave our front door every day. I have also agreed to volunteer for any media seva with UNITED SIKHS.
The Camp was organised and managed at par with any top corporate workshop with immense love and devotion to Waheguru. For me Sikhism had always meant going to the Gurudwara, thanking God and making a wish. Now I realise it's also about oneness of humanity, helping each other and sharing our resources with those who are not as fortunate as we are. I remember in my school days I read a quote "Service of Humanity is the Service of God" and this camp taught me how.
The camp lasted for two days and it opened a whole new world for me. What I learnt is going to stay with me for my entire life. My son and I will practically apply learnings of the camp in our daily living to take full advantage and continue to improve our lives and of others.
Check out more videos on the camp here
Visit our Camp picture gallery here