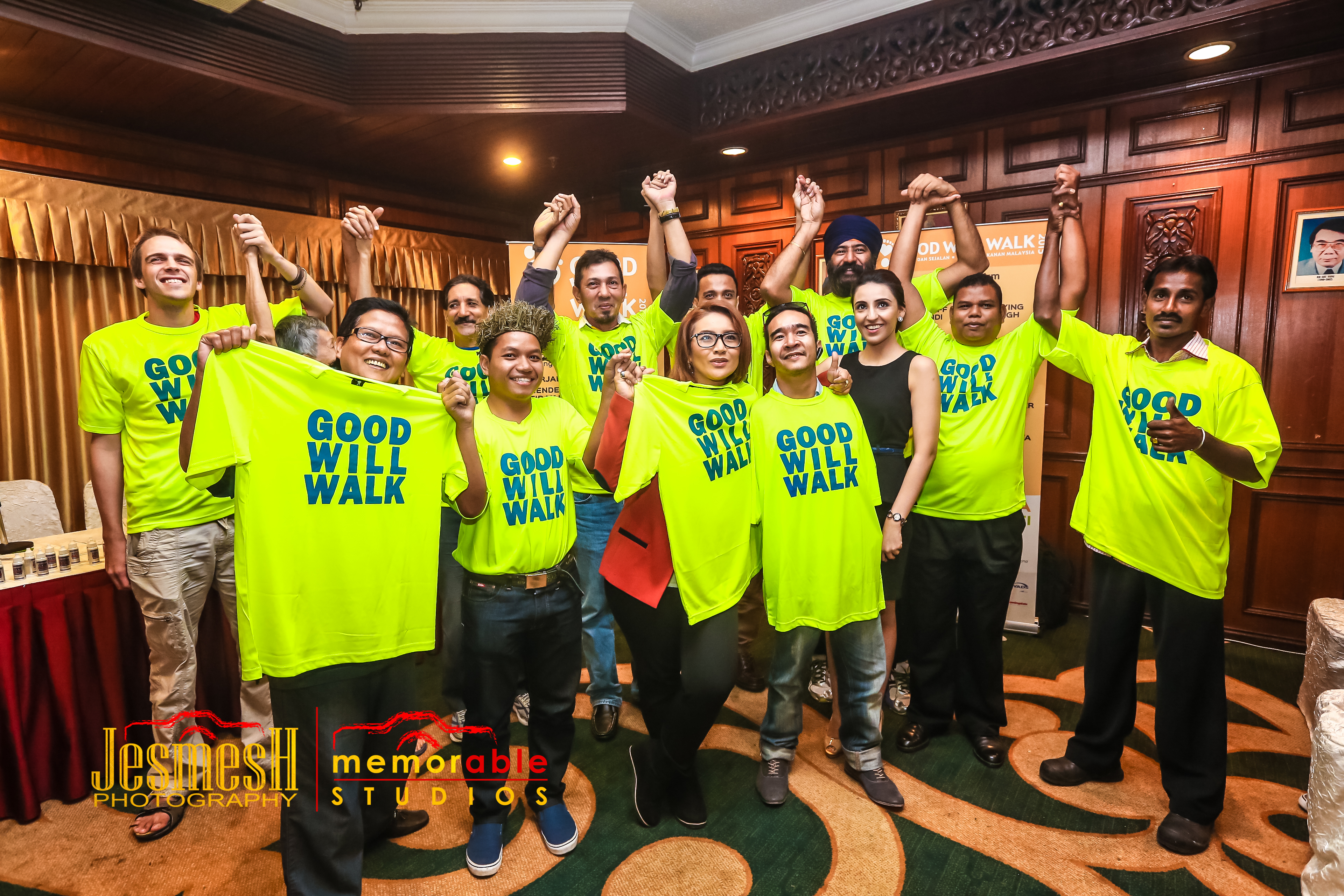 Participants and supporters at the media launch of the Good Will Walk Malaysia 2015
Over 35 Days covering 750 Kilometres - 200 Tonnes of non-perishable food and funds to be collected during the Good Will Walk Malaysia 2015 from the North to South of peninsular Malaysia.
Malaysia's Minister of Defence, YB Datuk Seri Hishammuddin Tun Hussein has given his full support to the Good Will Walk.
In addition to the 10 walkers who are committed to the walk, the walk is expected to see the participation of celebrities like Datuk Sheila Majid, Sazzy Falak, and activist Datin Paduka Marina Mahathir.
For more information and to donate for the Good Will Walk go to www.goodwillwalk.com.my
Kuala Lumpur, 17th April 2015 - UNITED SIKHS (Malaysia) yesterday had a media launch of its Good Will Walk to create awareness about food poverty and to collect food and funds for the first Malaysian Food Bank. A team of ten committed walkers will be joined by celebrities, the general public, members of the Malaysian Armed Forces and other NGOs in the 750 km Good Will Walk from Kampung Wang Kerian, Perlis to Melaka.
From 19th of April and ending on the 23rd of May, the trek will last 35 days as participants aim to raise awareness of the plight of the homeless and poor, to raise donations and 200 tonnes of non-perishable food items for the newly registered Malaysia Food Bank Organization. The Good Will Walk aims to demonstrate the spirit of volunteering and the benefits of supporting various government initiatives as a means of building a better, stronger and more prosperous Malaysia for all.
UNITED SIKHS humanitarian aid coordinator and Malaysian Food Bank director, Rishiwant Singh, said that apart from the main cause, the walk was also about getting people together for the cause.
"This walk is beyond race, religion and class. It is about Malaysians and foreigners coming together, walking together. And when they walk together, they will talk to each other. The whole idea is to reach out to people. We are just going to walk. It starts with the first step." Rishiwant Singh said at a press conference in Kuala Lumpur yesterday.
Rishiwant added that in all the years that disasters had struck in Malaysia, especially with the Malaysian floods in December 2014, the collection and dissemination of aid was always an uphill task.
"In every disaster we have gone for during the last 10 years, UNITED SIKHS has been helping out victims by funds raised on the spot. It doesn't take one or two days; it takes about 5 days to be ready."
"So we decided that there is a need to have a stockpile. It's about how we can get the food and funds before disasters happen. That's how we came up with this," he said of the Good Will Walk to raise funds and collect food for the first Malaysian Food Bank.
Entrepreneur Zhariff Afandi, who is also a director of the Malaysia Foodbank Organisation, will be joining in the walk for the first and last 100 km of the journey that will start at Perlis and end in Malacca. To Zhariff, the walk was about breaking the barriers that prevented Malaysians from being united.
"It's just a small statement. Walking is walking. You know what they say - you got to walk the talk. So this is where we hope to walk the talk in bringing the spirit of unity together.
"It's also like Rishiwant said - disasters happen almost every year.
"On top of that, it's not just disasters; there's a big issue of homelessness. There are people who do need help," he was quoted as saying to the Rakyat Post, an online newspaper.
You may read about a previous Good Will Walks organised by UNTED SIKHS at http://unitedsikhs.org/gww/canada/2014/
For more information on the Good Will Walk go to www.goodwillwalk.com.my
To make the Good Will Walk a success please donate TODAY.

.
Issued By: 
The Good Will Walk team
contact@unitedsikhs.org