The American Sikh Community Offers Help and Stands in Solidarity With the Victims of the Orlando Shooting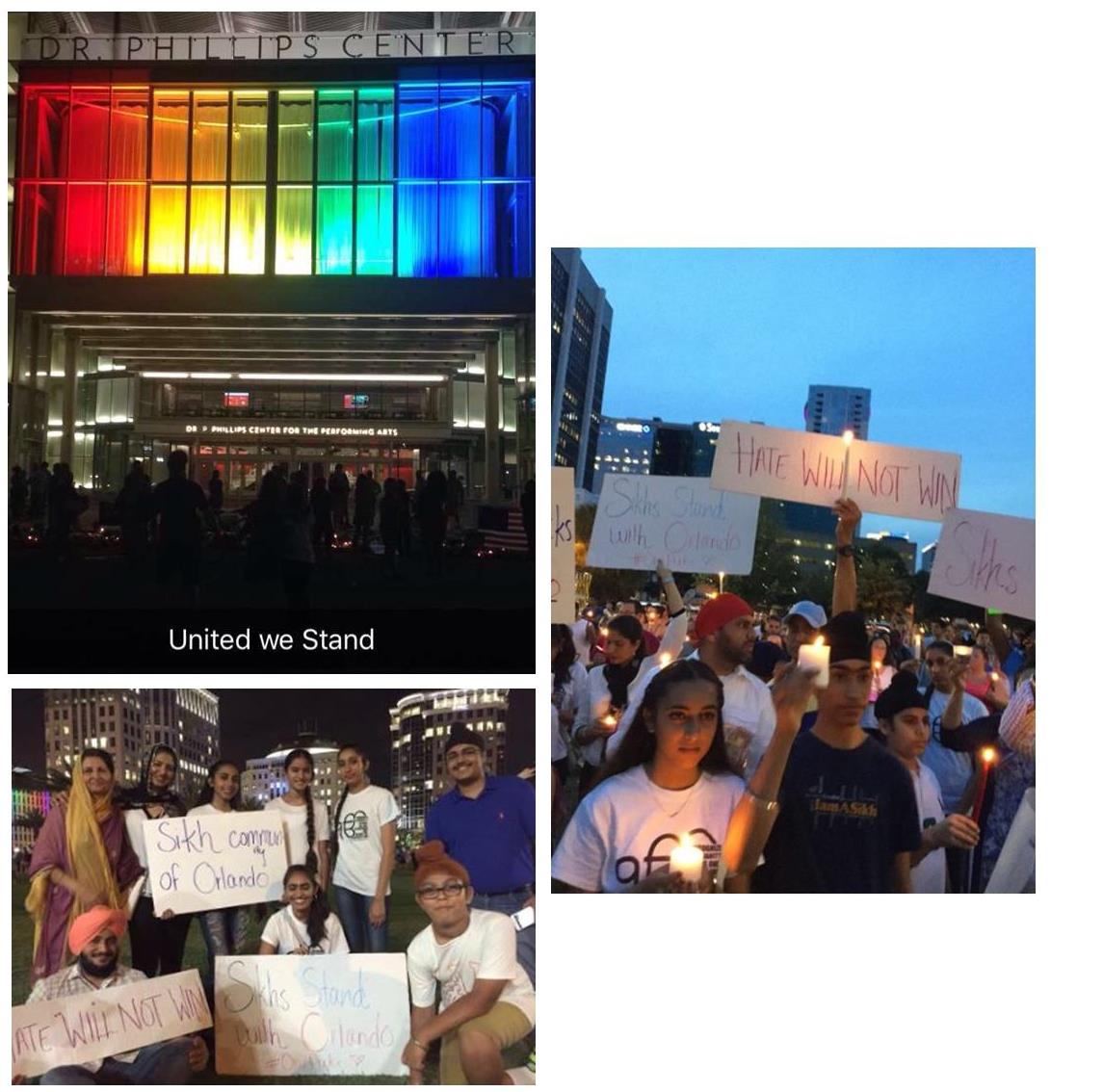 Orlando,USA: Late Saturday night leading into early Sunday morning, Orlando, Florida was stunned by a devastating hate-crime when 29-year-old Omar Mateen entered the Pulse nightclub (an LGBT community based social lounge), and gunned down more than 49 individuals, also wounding 53 others. The incident took place around 2:00 am, and after a three-hour stand-off, Orlando police shot and killed the gunman.
Omar Mateen was American-born. He had no ties to the muslim faith and although ISIS sympathizers praised the attack, no claim of responsibility has been taken by Jihadist groups.
"This was an act of terror, and an act of hate," stated U.S President Barack Obama on an official address to the nation. "This is an especially heartbreaking day for our friends who are lesbian, gay, bisexual or transgender."
On Monday evening, a candlelight vigil ceremony was held to honor those that were killed during the heinous attack. The Orlando Sikh community, guided by Baljit Singh stood alongside their fellow Americans to give condolences and show support for the Lesbian, Gay, Bisexual and Transgender community.
The Sikh Sangat of Orlando community spokesperson, Baljit Singh said, "In this grim hour we offer our deepest condolences for all those affected by the horrific event and offer our prayers for those departed."
UNITED SIKHS, an international human rights not-for-profit organization (NGO), thanks the Sikh community of Orlando for standing in solidarity with our fellow Americans during this difficult time. The Sikhs of Orlando, whether children or adults, have shown their humility, respect and devotion with this act of seva (selfless service), a core tenant of the faith. Wanda Sanchez Day, Esq., Acting National Legal Director of United Sikhs, Inc., states "Sikhs believe that all people should aid the innocent against violence and hate. They too have been the victims of hate crimes and backlash, especially since 9/11. Much of this backlash today is fueled by the public's lack of awareness of the Sikh culture and the community's struggles."
Using funds gathered by the Sikh sangat, over 4,000 drinks were delivered by the Sikh community during the vigil ceremony to keep people refreshed and hydrated, along with 1,600 snack packs and more than 200 candles.