SIKHS PROVIDE LIFE SAVING AID TO ROHINGYAS
An estimated 123,000 Rohingya have fled to neighboring Bangladesh following violence in Myanmar.
UNITED SIKHS has launched emergency aid, will you help us sustain? - Volunteer Donate
Naikhongchari, Bangaldesh: UNITED SIKHS with their local coordinators have collected supplies for distribution at Naikhogchari in Bandarban district of Bangladesh. More than 50,000 Rohingyas have taken shelter as it is an area close to the border of Myanmar. As per Ronny Singh, the local UNITED SIKHS coordinator in Bangladesh, "There is a huge influx of refugees and UNITED SIKHS will stand as a buffer to this mass migration due to persecution".
UNITED SIKHS is providing emergency relief supplies such as - plastic sheets, water, food, jaggery and vegetables to the Rohingyas. The BGB(Border Guards Bangladesh)Chief of Naikhaongchari provided UNITED SIKHS the location where help is urgently needed. Our team has established a base camp and is collecting all the supplies to be distributed.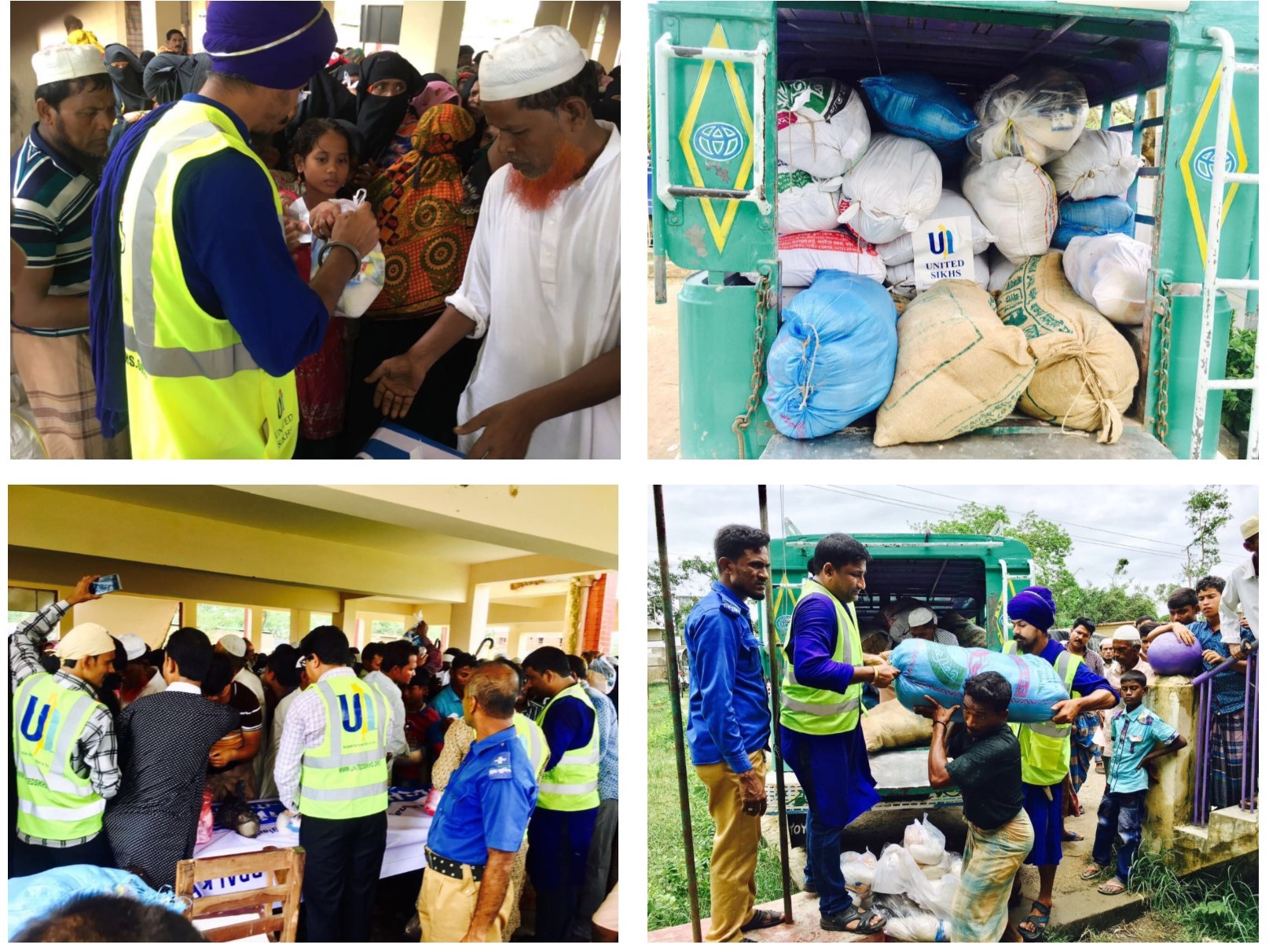 Click here to your Relief project in action.
Since the late 1970s, nearly one million Rohingya have fled Myanmar due to widespread persecution. Due to ongoing violence and persecution, hundreds of thousands of Rohingya have fled to neighboring countries from Myanmar either by land or by boat.
In November 2016, a UN official accused the government of Myanmar of carrying out "ethnic cleansing" of the Rohingya.
Far from home and afraid for their lives, most of the Rohingya people are now dependent on aid for all their basic needs - food, water, shelter and medical care. They have been uprooted from everything and anything they have ever known. Make a donation today to provide relief to the neglected Rohingya people.
"A genocide occurring right before our eyes. The world can't sit idly by while the world burns. We will not sit silent and we will not be mum. We will carry the legacy forth of our Gurus to provide for those in the most dire of circumstance", said UNITED SIKHS Sikh Aid Director Gurvinder Singh.
We must provide aid to the helpless, give solace to the distressed and nourishment to the hungry. As part of its relief work, UNITED SIKHS volunteers are tirelessly working to assist the refugees. We can only do this with your support.