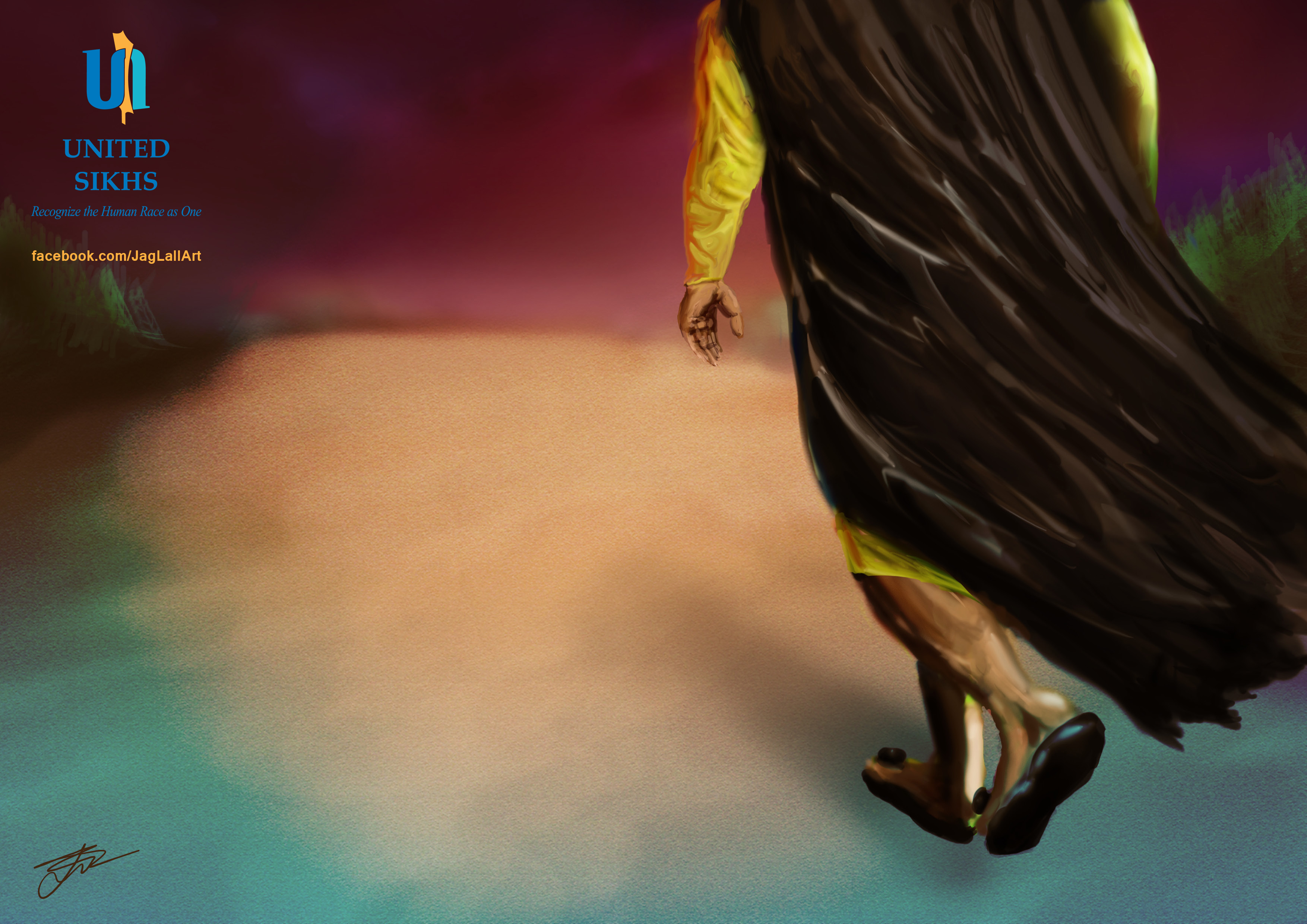 The copyright of this artwork belongs to UNITED SIKHS. If you should wish to use it, please contact us at contact@unitedsikhs.org
16th Nov 2013 - Guru Nanak Sahib JI, the first Sikh Guru, spent some 30 years of his life travelling on foot across continents with the message of sarbat da bhalla - well being of all. On the 543th birth anniversary (Gurpurab) of Guru Nanak Sahib, on 16th November 2013, UNITED SIKHS volunteers take stock of their journey whilst serving in the footsteps of Guru Nanak Sahib Ji.
UNITED SIKHS would like to share the following message on Sikhi as we celebrate Guru Nanak Sahib Ji's Gurpurab. This message is written by His Honour Sir Judge Mota Singh QC, a former Crown Court judge in the UK, who has received many lifetime achievement awards. He has been an advisor for our Right To Turban campaign under which we won three cases at the UN against France's ban on the turban in schools and on ID photo documents.
"Ours is a bewildered, tormented generation. It would not be an overstatement to say that mankind is, today, in the midst of one of the greatest crises in history. It seems that the whole world is suffering from scepticism in faith, anarchy in morals; and we do not know which way to turn. Our generation has the responsibility for deciding whether we are to prosper or decline, whether our conduct will lead to a beginning or to an end. We merely observe the trappings of religion, the gestures of faith and the conventions of piety; our actions do not match our words. We conceal from ourselves and from others the nature of what we do by euphemism. We must strip away all pretence and be honest with ourselves; that is the only way to regain faith in decency. Though we know the world is one, whether we like it or not, and that in spite of political, national and racial divisions, the fortunes of everyone of us are linked to those of others - even though we know that - we do not feel it in our bones. The world has, perhaps, been brought together rather too suddenly and this enforced intimacy has intensified the differences and increased the possibilities of friction.
The greatest danger facing humanity, after the collapse of secular ideologies, is religious-fuelled nationalism, the cloak of sanctity over the politics of hate. All monotheistic religions believe that man is made in the image of God. But we have great difficulty in recognising the integrity of those who are not in our image, whose faith and traditions and culture and language are not like ours. If we are to co-exist in a world of rising religious intolerance, "we shall have to find an inter-faith imperative that speaks not only with a small voice but also out of the heart of the whirlwind." Guru Gobind Singh Jee said "Recognise the Human Race as One." There is hardly a prayer in our liturgy that does not end with a plea for peace and the welfare of all humanity. I believe that the Sikh religion is uniquely placed to bring about that communion, that brotherhood of man, to build a bridge between different religions in the interest of world peace.
Sikh spiritual tradition is not content with mere toleration. There can be no goodwill if we only tolerate each other. Many thinkers rebuke the habit of condescending toleration. We must appreciate all faiths, recognise that they offer rich spiritual experiences and encourage sacrificial living and inspire their followers to a nobler way of life. The Sikh Gurus had this noble quality of appreciation of whatever was valuable in other religious traditions. The more we understand one another, the more we find we are like one another.
The Sikh religion possesses the key to the happiness and peaceful coexistence of the entire human race. It is a religion with a message of hope and optimism. Adherence to its principles and teachings can, I believe, prevent a clash of civilisations. The brief history of Sikhi is a story of an inexorable fight in the cause of righteousness. It has demonstrated an extraordinary penchant for surviving in the most hostile environment. Everyone knows how Guru Gobind Singh Jee created a mighty force of self-respecting, dauntless, brave and disciplined Sikhs - the Khalsa - a powerful body (ordained by God) which, in loyalty and courage, was to struggle against overwhelming odds, survive the cruellest of persecutions and ultimately rise to supremacy. It was a body with a resolve of steel but a saintly temperament, dedicated to the defence of righteousness, devout and committed to the good of humanity. How the Guru shook, out of their lassitude, people reconciled for long to their fallen state, their will to action completely atrophied, is one of the miracles of history.
May I address a few words to my own community? We face today the challenge of destiny. We are living in a period of disintegration of faith and growing disillusionment about the traditional values which have come down to us. Many pernicious practices against which our Gurus revolted have crept into Sikh society. Worldly considerations are corrupting the great ideals. The barriers which the Gurus laboured to cast down have been recreated. We pay lip-service to these ideals. If we strip away all pretence and are honest with ourselves, we will know that we are fast losing faith in decency. We can meet the challenge and bring some order if, and only if, we follow implicitly the principles and teachings of our Gurus. It does not need much perspicacity to appreciate that the consequences of a failure to rise to that challenge are too serious to contemplate. We shall ignore them at our peril.
The need of the hour is for enlightened men (and women) with a clear vision, disciplined and steeped in the Maryada, men with a spiritual depth, not uncaring bigots; above all, men of moral courage who will stand like a rock, who will speak to our deep instinct that there is more to life than self-indulgence, personal power or position that modern culture seems not only to expect and condone but encourage, men who understand the community's problems, anxieties and needs, men who are alive to the challenges to the community and have the ability and determination to articulate its concerns and its aspirations and men who will set their faces like flint against any fissiparous tendencies on the part of those with their own agenda, men with the ability to identify and define the goal for the community and give imaginative, decisive leadership and not dither or quarrel among themselves.
The Sikh religion is a religion of continuity. It depends for its very existence on the willingness of successive generations to hand on their faith and way of life to their children, and on the loyalty of children to the heritage of their past.
May I adopt, and conclude with, the words of a former Chief Rabbi who said "the duty we owe our ancestors who died because of their faith is to build a world in which people no longer die because of their faith. We honour the past not by repeating it but by learning from it, by refusing to add pain to pain, grief to grief. That is why we must answer hatred with love, violence with peace, resentment with generosity of spirit and conflict with reconciliation. In short, either we live together in peace as God's children, children of one Father, or we perish together. The choice is either extinction or human brotherhood. It cannot be left to the vagaries of chance."
Issued By:
Mejindarpal Kaur
International Legal Director
UNITED SIKHS
contact@unitedsikhs.org
www.unitedsikhs.org