Aussie Christian School Amends Uniform Policy to Admit Sikh boy with Patka
"On behalf of Sikhs in Australia, and in Victoria in particular, we are very pleased that VCAT has upheld religious freedom in schools. We applaud Sidhak Singh's parents who took a stand for their child that will benefit all faith communities," said Mejindarpal Kaur, International Legal Director of UNITED SIKHS. Here is a video message on our advocacy work from Mejindarpal Kaur, our International legal Director.
UNITED SIKHS, through its chapters in 10 countries, is ready to help anyone whose religious freedom rights are violated. You may submit your request for advocacy help on our online link at http://unitedsikhs.org/KnowYourReligiousFreedomRights/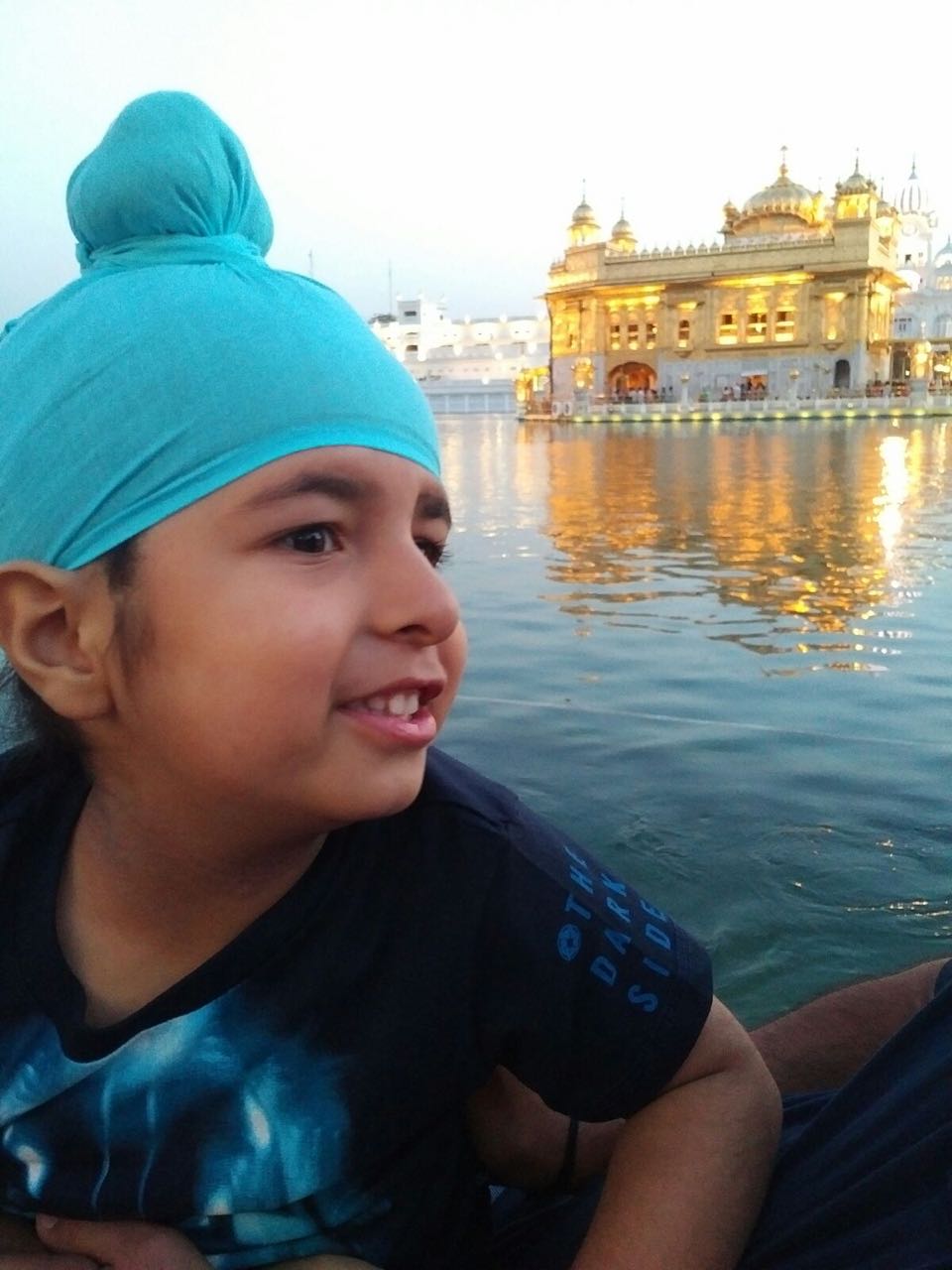 5 year old Sidhak Singh, on a recent trip to Darbar Sahib, Amritsar.
Melbourne, Australia: The Melton Christian College (MCC) has amended its uniform policy this month to enrol 5 year old Sidhak Singh in the new academic year, after refusing his admission last year because he wore a patka, a head covering worn by Sikh children.
MCC amended its uniform policy, to allow exceptions where genuine medical or religious grounds exist, following a landmark decision of the Victorian Administrative and Civil Tribunal (VCAT) in Sept 2017 that found that Sidhak Singh had been unlawfully discriminated by MCC when they had refused to enrol him because he had unshorn hair and wore a patka,
The Tribunal ruled in September that the Melton Christian College (MCC) had indirectly discriminated against Sidhak Singh and violated section 38 of the Equal Opportunity Act 2010 of Victoria that prohibits discrimination by an educational authority in the enrolment of students.
"I consider that MCC's uniform policy in so far as it prohibits head gear of a non-Christian faith, could be described as 'openly discriminatory," said VCAT member, J Grainger, in a 50-page judgment. You may read the full judgment here.
The Victorian Equal Opportunity and Human Rights Commission, which had intervened in the case, had said in a statement, "The Victorian Civil and Administrative Tribunal's decision in the Arora v Melton Christian College case was an important test for clarifying the exceptions in the Equal Opportunity Act 2010. This is the first time that these exceptions from discrimination have been considered in Victorian courts or tribunals."
"I was approached by UNITED SIKHS in January this year when they learnt that I did not have legal representation. They assisted me and arranged pro bono representation by Herbert Smith Freehills, a top law firm in Australia," Sidhak Singh's father, Sagardeep Singh, said after VCAT's ruling.
VCAT had ordered that Sidhaks parents and MCC attend a compulsory conference to determine what orders VCAT should make. Following the compulsory conference that was held in November, both parties issued the following joint statement:
"MCC, Sagardeep Singh Arora and Anureet Kaur Arora are pleased to have resolved the matter of the enrolment of the Aroras' son, Sidhak Singh Arora, which was the subject of proceedings before the Victorian Civil and Administration Tribunal under the Equal Opportunity Act 2010 (Vic). MCC has made amendments to its uniform policy to allow exceptions where genuine medical or religious grounds exist, such that Sidhak will be able to start at MCC in the beginning of the 2018 school year.
MCC is founded on Christian doctrine, and is committed to an inclusive school community partnering with families in excellent Christian education. MCC regrets the difficulties that took place with respect to the enrolment and the Arora family is grateful to the school for the amendments it has made to the uniform policy in order to welcome Sidhak to the school."
You may read more about UNITED SIKHS' advocacy work for the turban at www.unitedsikhs.org/rtt.
You may submit your request for advocacy help on our online link at http://unitedsikhs.org/KnowYourReligiousFreedomRights