Sikh Man Should Be Hailed a Hero After Capture of Bombing Suspect Ahmad Khan Rahami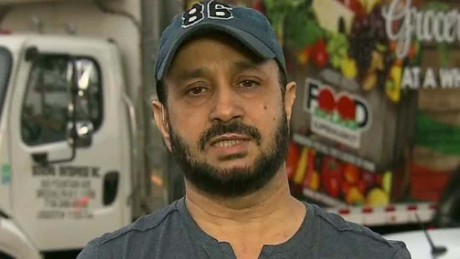 Harinder Bains, a Sikh business man who recognized bomb suspect
Picture courtesy: CNN.com
New York: On Saturday evening, September 17, 2016, the streets of Chelsea in New York City echoed the blast of a bomb that, according to various news sources, injured 29 people, and the hunt for a suspect began. Surveillance cameras, which have become a regular fixture in urban America after 9/11, had captured what the police believed was the perpetrator's image. By Monday morning, New Yorker's cell phones rang a high pitch alert that circulated the name of the suspect.
By 11am on Monday, Harinder Bains, a Sikh business man in Linden, New Jersey, already knew who the police were looking for. Coincidently, he was in front of his place of business when he saw a man sleeping in the entrance to his tavern. "I was watching CNN News and (Rahami's) photo was on the side of the screen," he said. According to New Jersey.Com, Mr. Bains called the Linden Police who apprehended Rahimi shortly after. ("Bar Owner Came Face to Face with Ahmad Kahn Rahami before Shoot-Out With Police, (http://www.nj.com/union/index.ssf/2016/09/bar_owner came_face-to-face_ahmad_khan_rahami_befo.html
What is not in the news stories is that the man who made the call is a Sikh. Brave Sikh men and women like Mr. Bains are not rare. You have only to go to the UNITED SIKHS website to see that Sikhs have embraced the United States as their home for more than one hundred years and brought with them old traditions that originated in the Punjab, India in the 16th century. Feeding the poor is such a tradition. Protecting the innocent is also a tenet of the faith.
Despite that, since 9/11, Sikh Americans have felt the backlash of Islamophobia. The political rhetoric that stereotypes all turban and beard wearing men as terrorists manifests itself as hate crimes and bullying perpetrated against the Sikh and Muslim communities, and in the schools against Sikh and Muslim children.
The backlash against Sikhs since 9/11 is unrelenting. Days after the attack on the Twin Towers, a Sikh man across the country was shot and killed in a gasoline station thousands of miles away. In 2012, Sikhs were massacred in a Gurdwara (Sikh place of worship) in Wisconsin. Last month, fifteen years after 9/11, a nurse refused a Sikh emergency medical care at hospital in Los Angeles stating "get this Muslim out of here."
Brave and conscientious citizens believe they have a civic duty to act and not be complacent. Mr. Bains is such a conscientious, courageous citizen and UNITED SIKHS thanks him for embodying the Sikh tradition and protecting the innocent. He deserves our sincerest respect.