Dear Supporter,
As you know, Nepal was hit by one of the most devastating earthquakes on April 25th. When my country needed help, I came across the UNITED SIKHS team of volunteers and doctors willing to travel to places where no one else dared to go. I found passionate members and we became one team.
We have now traveled together to many places and walked many kilometers to get to our destinations as the roads are blocked by landslides and the van tires get punctured on the rough hilly terrain. I was surprised to find, most villagers had never gotten medical help before.
Our team treated many female medical emergencies like urinary tract infections, STD's, pregnancies. Many earthquake related injuries and other medical issues attended to like trauma (lacerated wounds, abrasions, infected wounds, fractures) shortness of breath, musculoskeletal pain, diarrhea, acute gastroenteritis, fever, upper respiratory tract infections, joint pains, allergies, oral ulcers, anxiety disorders.

Update: Over 3000 patients provided medical assistance in 3 weeks, especially Women and Children.

Here is an overview of the work done so far and it still continues as I write to you. I hope you can find it in your heart to donate towards this worthy cause and organization.

FIRST MEDICAL CAMP - set up in Bhimatra in Sindhupal Chok area almost 120 km from Kathmandu. The team walked 10 km on foot to reach this village. Around 80 patients treated.
SECOND MEDICAL CAMP - Multiple medical camps held around Raviauli with the team visiting 6 villages, walking for kilometers to reach the community. Nearly 200 patients have been provided with medical assistance in this area.
THIRD CAMP - set up in village Jalberi, almost 170 km from Kathmandu. 95% of homes here are destroyed and our medical team provided assistance to 400 patients here. People walked for 2 hours to seek medical attention from our doctors and this was the first time many of them had consulted with a medical practitioner.
FOURTH CAMP - Over 500 patients treated at our camp in Chaturale. This place has been impacted most by water borne diseases as the water line was destroyed by the earthquake, leaving the locals with insufficient water supply.
FIFTH CAMP - was over a weekend at Gurdwara Guru Nanak Satsang. Over 470 patients treated and we were joined by other local doctors to assist with the camp.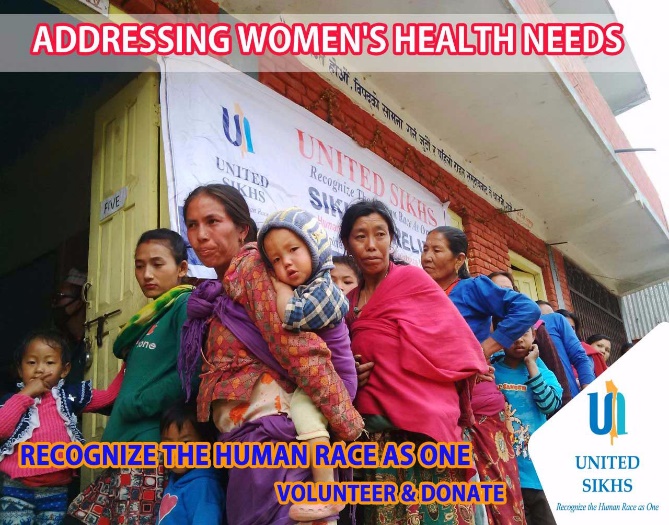 SIXTH CAMP - at Village Phugel in Gorkha from May 9th to 12th. The team attended 900 patients in two days and distributed tarpals as temporary shelter to people. These people have been without homes and shelter for 20 days.
SEVENTH CAMP - Team reached the epicenter of earthquake in Nepal, Dolkha which is approx 120 km from Kathmandu. Team went to VDC Lakuridanda district and are told they are first medical team to reach here. Medical assistance provided to over 120 patients.
EIGHTH CAMP - At Basantapur Durbar Square, survey and distribution of hundreds of female sanitary products at. Contraceptive pills, sanitary napkins, gynecologist recommended creams and pills, baby wipes and diapers distributed.
NINTH CAMP - at camp site in Kulamanch, Kathmandu. Team distributed more women's sanitary products and dry food items to affected families living at. There are 600 people situated within this field, with 1 toilet per gender. We have identified that there are issues with women and sanitation. Our team of doctors spend time with the local women providing teaching and training on women's health issues and sanitation needs.
TENTH CAMP - at Kankrabari Village in Bhaktapur on 18th may 2015. Our team of doctors treated 227 patients including a fall casualty. Main focus of camp was female health and hygiene and infant and children's health.
ELEVENTH CAMP - at Bans Bajhang, over 150 adults and children provided medical check up to. The team drove on one of most dangerous roads for 5 hours and hiked for 4 hours to reach here.
The team has also made many trips to villages and districts to survey the ground situation and to distribute tarpals ( temporary shelters ).
I would like to thank my fellow colleagues Dr Amarjeet, Dr Harmeet, Dr I P Singh, Dr Raminder, Dr Milanjeet, Dr Martha, Nurse Latoya and our team members Komal, Amanjot, Anup Dhungel, Mejindarpal Kaur, Bhai Esher Singh, MJ Singh, Gurjit, Sabin, Shyam Pandey, Gurvesh Singh and lastly our brave drivers Ravi and Jairam for safely driving us through risky roads and rough terrains to our destinations.
To view more pictures from various camps, please visit facebook.com/UNITEDSIKHS
I humbly request you to donate so our dedicated team of doctors and volunteers from UNITED SIKHS can continue this mission.

Thank you,
Dr Rishab Koirala
UNITED SIKHS Nepal Relief Medical Team ‎and Medical Officer at Manmohan Cardio Thoracic Vascular and Transplant Center