Please Be Involved, Click here and Join UNITED SIKHS
To receive forthcoming bulletins join our UNITED SIKHS Yahoo group
To donate go to www.unitedsikhs.org/donate
This Press Release may be read online at: http://www.unitedsikhs.org/PressReleases/PRSRLS-21-09-2006-00.htm
Press Release: 21nd September 2006, 7th Assu (Samvat 538 Nanakshahi)
UNITED SIKHS JOINS FAITH GROUPS AND SURVIVORS AT TREE PLANTING MEMORIAL AT GROUND ZERO
New York , - In the spirit of unity after 9/11, UNITED SIKHS participated in a memorial tree planting on 10 th Sept 2006 . The tree that was planted was an offspring of the Survivor Tree of Oklahoma City that remained standing in the wake of the bombing of the Alfred P. Murrah Building in 1995. The tree was planted amongst trees that survived the September 11, 2001 attack upon the World Trade Center to symbolize a common bond, resiliency and renewal amongst the communities.
The memorial tree was planted in the Living Memorial Grove, located across the street from City Hall, next to five trees that were previously planted in the World Trade Center Plaza . The Oklahoma City Survivors Tree is an American elm that offered shade in the parking lot of the Alfred P. Murrah Federal Building , prior to the bombing on April 19, 1995 . The tree was badly damaged in the explosion, but survived and is now the center piece for the Survivor Circle in the Oklahoma City Memorial. The Survivor Tree is a symbol of human resiliency and a tribute to renewal and rebirth.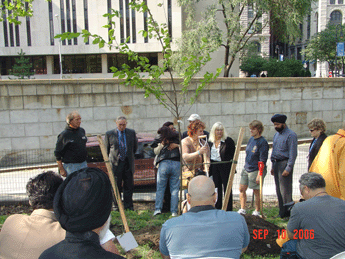 Kuldip Singh at the survivor tree planting ceremony
Craig Miller, the Jewish Community Relations Council of NY and serving on the New York Board of Rabbis, said "We hope to solidify, with this planting, the deep bond that has developed between the people of Oklahoma City and New York 's sister cities in grief, but also in the strength needed to survive. "

The replanting ceremony was preceded by a short interfaith gathering with the support of the Jewish Community Relations Council of New York. Speakers representing many faith traditions in New York City made short statements describing what the planting ceremony means to them. Most traditions embrace tree plantings as symbolic of life and rebirth.

Rabinder Singh, Associate Director of UNITED SIKHS Community Affairs- New York region addressed everyone gathered for the tree planting with the following Sikh prayer:
Aasaa, Fifth Mehl:
amrit naam tahaa meh fali-aa. ||1||
The word of God is present in this worldly garden as the fruit.
aisaa karahu beechaar gi-aanee.
Consider this, O wise one,
jaa tay paa-ee-ai pad nirbaanee.
by which you may attain the state of Truth
aas paas bikhoo-aa kay kuntaa beech amrit hai bhaa-ee ray. ||1|| rahaa-o.
The garden will only frutify if it is protected from the toxic water outside the garden but within it is the ambrosial nector O Siblings ||1|| Pause ||
sinchanhaaray aykai maalee.
God is the one gardner who tends this worldly garden.
khabar karat hai paat pat daalee. ||2||
God takes care of every leaf and branch of this worldy garden. ||2||
sagal banaspat aan jarhaa-ee.
And brings all sorts of plants and plants them there.
saglee foolee nifal na kaa-ee. ||3||
With tender care of the gardner all bear fruit- none is without fruit ||3||
amrit fal naam jin gur tay paa-i-aa.
The Ambroisal Fruit of the Word of God is obtained from the Guru.
naanak daas taree tin maa-i-aa. ||4||5||56||
- Nanak says, such a servant crosses over the worldy ocean of ignorance and duality ||4||5||56||
Kuldip Singh, UNITED SIKHS director, said, "O ur goal tonight and from this point forward is to stand firm in the light, grounded with one another, acknowledging fully the beauty of each religion's contribution to a world of peaceful co-existence."
Elia Zedeno, a member of the World Trade Center Survivors Network, read a poem,
"Being a Tree" which is narrated below-
Perhaps the turmoil, discomfort, and upheaval I've felt throughout my life are the same turmoil, discomfort and upheaval the tree feels as its roots grow. Not all roots grow deep into the ground. Some roots scatter in different directions causing the tree to wonder it belongs. Other roots grow out of the earth in an attempt to escape confinement, only to be exposed to the elements.
Not knowing which way my roots will grow has caused uncertainty. As time, experience, and exposure form part of the tree's life, uncertainty forms part of my rooting process. Therefore, I am as the tree, experiencing turmoil, discomfort, and upheaval as part of my growth.
The faith representatives, organizers and speakers were from :
World Trade Center Survivors Network (http://survivorsnet.org)
Jewish Community Relations Council of New York : Rabbi Craig Miller, NYC Board of Rabbis
Interfaith Center of New York: Matt Weiner
NY City Parks and Recreation: Liam Kavanaugh, Assistant Commissioners of Operations Ralph Musolino, Park and Recreation Manager
NYC Police Department, 5 th Precinct
Oklahoma City National Memorial Board: Richard Williams
American Buddhist Confederation: Judy Chen
UNITED SIKHS : Kuldip Singh and Rabinder Singh
Disaster Chaplaincy Services: Rev. Julie Taylor
Union Theological Seminary: Victoria Ramsey
Council of Peoples Organization: Mohammad Ravzi
Academy for Jewish Religion: Rabbi Linda Sheriner-Cahn
St Andew's Church: Father Jim Hayes
Church of IIE IFA Osa: Baba Antonio Mondesire
To see pictures, please click on: http://www.unitedsikhs.org/multifaith/treePlanting
Issued by:
Arvind Kaur
Multifaith Program Coordinator
UNITED SIKHS
arvind.kaur@unitedsikhs.org
1-888-243-1690

---
Our Mission
To transform underprivileged and minority communities and individuals into informed and vibrant members of society through civic, educational and personal development programs, by fostering active participation in social and economic activity.
UNITED SIKHS is also an avenue for networking between like-minded organisations to establish and nurture meaningful projects and dialogues - whether social, cultural or political- to promote harmony, understanding and reciprocity in our villages, towns and cities.
UNITED SIKHS is a coalition of organisations and individuals, who share a common vision based on the belief that there is no greater endeavour than to serve, empower and uplift fellow beings. The core of our philosophy is an unwavering commitment to civic service and social progress on behalf of the common good.
Accordingly, UNITED SIKHS has sought to fulfil its mission not only by informing, educating and uplifting fellow beings but also by participating in cross-cultural and political exchanges to ensure that the promises and benefits of democracy are realized by all.
We at UNITED SIKHS believe that the development of enlightened and progressive societies can be made possible by socially conscious groups of people who make a commitment to develop and direct human potential. Our work, efforts and achievements stand as a testament to our faith in this vision.