UNITED SIKHS Disaster Relief Team Deployed to Mexico
In the span of three weeks, Mexico and its people have suffered three major hurricanes, leaving hundreds of thousands of people homeless, thousands injured, and hundreds dead. UNITED SIKHS staff and volunteers have been activated to provide emergency assistance and disaster relief all over the affected areas, especially those where no aid has yet reached.
The situation in Mexico is dire. The areas around the epicenter of the earthquake, including Mexico City, which is home to 30% of the population of Mexico, have been devastated. According to ground reports, hundreds of buildings have toppled, leaving thousands of people trapped in the rubble. The people who could escape their crumbling homes were left to sleep on the streets, without protection against the downpour of heavy rain.
One UNITED SIKHS volunteer observed that the "situation here is very bad. Many people are without homes and many more homes will be demolished. And even now, people are still trapped under collapsed buildings. Our school is closed and my apartment unsafe to live in. There is lots of fear and uncertainty and a general feeling of shock and emptiness."
In the face of such destruction, the spirit of the Mexican people is strong and vibrant - following the earthquakes, community members mobilized to bring food, blankets, first aid kits, and other emergency supplies to Mexico City's city center.
While the Mexican people have been inspired to help their fellow brothers and sisters facing tragedy in urban areas, remote areas outside of Mexico City are not yet receiving the assistance they need. Remote areas of Oaxaca, Chiapas, Morelos, Puebla find that entire towns have been decimated. Bridges and roads have collapsed making it hard for people to evacuate or for aid to enter those areas.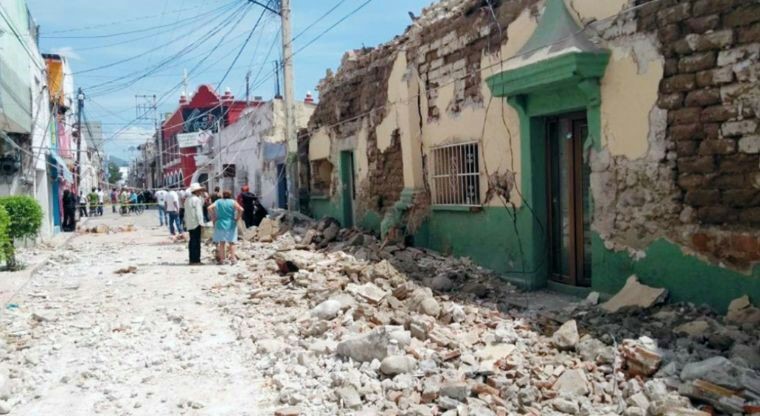 Thousands of Mexicans, living in rural areas, have lost their homes and livelihoods during the earthquakes.
Immediate assistance is needed to help them rebuild their lives.
For this reason, UNITED SIKHS found a beautiful opportunity to help in those communities where we can make the largest impact.
"Our principal focus is to provide shelter, food and water, and eventually helping in the reconstruction of these communities and the tools that will rebuilt their means to make an honest living," Prabhu Keerat Kaur, Team Co-Lead, UNITED SIKHS Mexico.
As of this week, UNITED SIKHS Mexico team has been activated and reaching the remote areas whose relief needs are acute and critical. Undettered by road and bridge conditions, volunteers are traveling 4-5 hours to bring warm meals to those in need.
The team will also be combining efforts with the New Mexico Sangat members who plan to arrive in Mexico on Monday, September 25. Together, the spirits of our volunteers on the ground remains high as we seek to rebuild with the Guru's spirit of Chardi Kala.
"We want to re-build our communities based in the universal love that bonds us as a human race, and we as Sikhs in Mexico would like to be a light for whoever in this moment feels surrounded by darkness." Akal Sahai Kaur, Volunteer, UNITED SIKHS Mexico.
"Mexicans are ready to work and do what is necessary to support each other, we are strong and resilient, but we cannot do it on our own, we need the help from everyone around the world to rebuild our communities and be able to start once more a new chapter in the life of this country." Prabhu Kirat Kaur, Team Co-Lead, UNITED SIKHS Mexico.
To truly make a difference and realize Guru Nanak's mission of Oneness, we need the help of the entire Sikh community to uplift and empower our Mexican sisters and brothers. Here's how you can help:
DONATE
UNITED SIKHS' ground operations are focused on making the most impact. That's why 99.9% of every dollar donated is translated into direct aid and resources for communities in need. Funds are desperately needed to help purchase supplies and provide life-saving resources for victims of these massive earthquakes. Please donate to help those in need - anything helps! USA donors can text MEXICO2017 to 41444 to donate .While donors from other parts of the world please visit http://www.unitedsikhs.org/donate.php to give.
DONATE EMERGENCY SUPPLIES
While food, water and shelter is being provided in Mexico City by government agencies, basic needs are not being met in remote areas. Durable tents are in critical demand as Mexicans are continually displaced by a series of earthquake aftershocks in Oaxaca.
Basic Needs: Food, Water, Blankets, Pillows, Clothes, Shoes, Durable Tents
Search & Rescue Needs: Picks, Shovels, Rope, Construction Gloves
Medical Needs: First Aid Kits, Analgesic, Medicine for Trauma Shock, Stretchers
VOLUNTEER
Due to the collapse of buildings and homes, Mexico City and surrounding rural areas require immediate medical professional help as well as search and rescue volunteers. Skilled volunteers like architects, engineers, construction managers, are needed in some areas. Additionally, volunteers who can help with Langar Seva and general help to distribute supplies are needed.
If you can volunteer your time and effort, please email sikhaid@unitedsikhs.org or call (888) 243-1690.
SPREAD THE WORD & STAY CONNECTED
Please watch our videos and subscribe to our You Tube channel at UNITEDSIKHSTV and follow us our social media Facebook | Twitter | Blog. Please consider sharing posts that resonate with you and encourage those around you to donate as well.
We are committed to showing the world what it takes to realize Guru Gobind Singh Ji's words: "Recognize the Human Race as One."