Phoola Maya Tamang, 57, was examined in the medical camp by Dr Raminder Kaur and Dr Rishab Koirala who strongly feel she has some underlying lung condition and is quite ill. We called the WHO health cluster with whom we are registered and they advised us to take her to the nearest government hospital in Kathmandu. Her daughter in law Dhan Maya, 30, had fever, cough and also gave history of Pulmonary TB 2 years back. The army, who has been helping us at the health camp, transported them to the Civil Hospital in Kathmandu. They have been admitted to the high care unit. UNITED SIKHS will pick up any medication costs and will monitor their progress.

&nbsp

Dakshankali Mahanagarpalika, Nepal = On 24th May, UNITED SIKHS Nepal Relief Team traveled in army trucks to reach their destination. The team set up a medical and dental camp at Kerabari village in Dakshankali and had to hike for an hour to reach here. Our team comprised of Dr Raminder Kaur (Hyderabad), Dr Milanjeet Kaur (Pune) an orthodontist, Dr Rishab Koirala (Nepal) our lead doctor from Manmohan Cardiothoracic Vascular and Transplant Center, Bhai Esher Singh (Hyderabad), Harneet Singh (Jammu) and Mejindarpal Kaur (UK).

The team traveled in 2 army trucks with justas (zinc sheets), 15 soldiers, 1 captain and 1 lieutenant.
DENTAL CAMP
Dr Milanjeet Kaur, who ran a dental camp found 30 of her patients needed extraction. One 7 yr patient diagnosed with dental abscess with swelling and palpable lymph nodes.....antibiotics and painkillers were provided and was referred to nearest dental hospital.
DENTAL TREATMENT
Dr Milanjeet's report: Around 65 patients were seen with ages ranging from 2- 65 years. 30 patients were provided with emergency antibiotics and painkillers for toothache. Everyone was given toothbrushes and tooth pastes and were trained the correct way of brushing teeth, using warm saline rinses as a substitute of mouth wash. Around 30 patients had dental caries deep enough to either go for root canal or extractions, which we don't suggest but villagers opt for as it is cheap.
MEDICAL TREATMENT
Dr Rishab's report: We brought two patients to the Civil Hospital in Kathmandu. One is a 57 year female with a history of shortness of breath, cough and fever. Her oxygen saturation was only 66% on arrival and she was treated in the emergency ward and is now transferred to the high care unit. She has been diagnosed with acute exacerbation of chronic obstructive pulmonary disease (COPD) with Cor Pulmonale. Cor Pulmonale is the alteration in the structure and function of the right side of the heart caused by lung disease. She will remain in the high care unit for a while. Her saturation levels fall to 40% without an oxygen mask. With oxygen her saturation levels are maintained around 85%. Her ABG analysis shows carbon dioxide retention. The second patient is the first patient's 30 year old daughter-in-law with a history of TB. Both patients seem more sick than we had initially thought.
A total of 150 villagers were seen at Kerabari village ranging from infants to the elderly. Our team of doctors examined their BP, Blood sugar and gave symptomatic treatment for all ailments. We also distributed glucose, Electrol powder and sanitary napkins. They were advised about healthy life styles and avoidance of any type of intoxication to improve their health.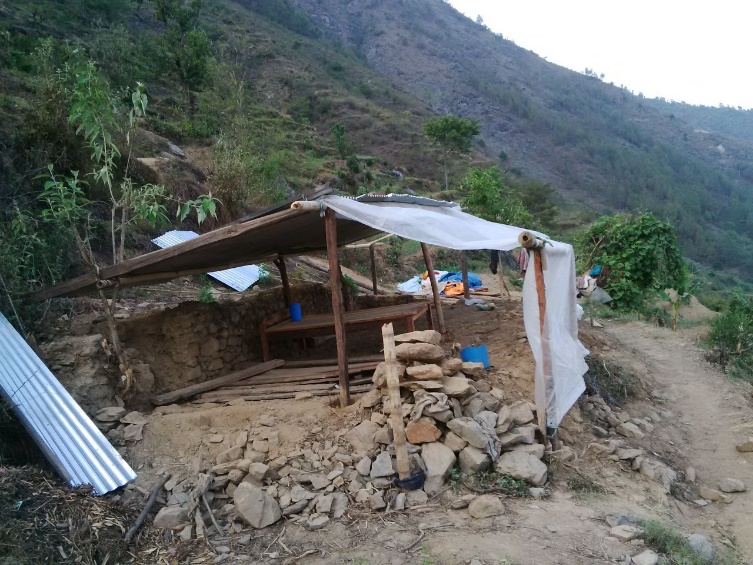 The team also distributed 'justas' (zinc sheets) to the 150 villagers for their 40 homes to build their shelters ahead of the imminent monsoon.
We would like to extend a special thank you to sevadars at Guru Nanak Sat Sang Gurdwara, Kathmandu for packing langar for the team and army.
For more updates and pictures, please Like us on facebook at facebook.com/UNITEDSIKHS
Our deepest gratitude to our supporters all around the world for their moral and financial support.
None of this would be possible without you.

Issued By- 
Gurvinder Singh
UNITED SIKHS Aid Director