HATE CRIMES ON THE RISE: Sikh Gurdwara Vandalized With Hate Message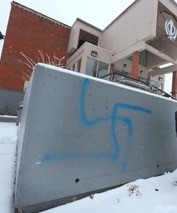 Courtesy: www.torontosun.com
Calgary, Canada: The Sikh community in Calgary, Canada is shocked that last Thursday their place of worship was vandalized by graffiti depicting a swastika, which is generally associated with symbols of racial hatred. UNITED SIKHS has reached out to the local authorities and requested an increase in police presence around Gurdwaras in the future to help the community feel safe again.
Sukhwinder Singh, Director at UNITED SIKHS Canada, said "We will work with local interfaith organizations, schools and the police to educate the community at large about Sikhism. It is important that people know that Sikhs have been in Canada for more than a 100 years. We hope to combat this type of hatred by seeking police enforcement of anti-hate laws and by educating the overall community about the good that members of the Sikh community do in Calgary and in neighborhoods around the world through works of Seva. Many people may not know that Sikhs give back to the community by selflessly giving succor to those in need."
According to human rights activists in Canada, Donald Trump's Presidential election campaign in the United States has had an impact across the border in Canada. "We are seeing the domino effect of his divisive rhetoric and it has caused a dramatic increase in incidents of racist and xenophobic harassment across the country and hope that Europe will not resonate. The Sikhs across the globe remember how after 9/11, in 2004, France passed a law on secularity to ban conspicuous religious symbols in schools in French public (i.e. government-operated) primary and secondary schools followed by Belgium that took us to take a legal stand." states Sukhwinder Singh.
For example, in Ottawa, in the month of November 2016, police arrested a teenager who targeted religious groups with racist graffiti. In Toronto last Monday night, a man was caught on camera hurling racist insults and threatening another man on a streetcar full of commuters.
According to the Southern Poverty Law Center report, there were four hundred and thirty-seven incidents of intimidation targeting people of color, Muslims, or those perceived to be Muslims like Sikhs, immigrants, the L.G.B.T. community and women between the presidential election in the U. S. on November 8th and November 14th of this year. The Sikh community is concerned about this increase in hate crimes in Alberta and other neighborhoods where there is a visible Sikh presence, adds Mr. Singh.
UNITED SIKHS urges all to speak out against hate crimes, bullying or threats and to report any incident to the local police.
In addition, UNITED SIKHS, International Civil and Human Rights (ICHRA) monitors hate crimes and provides legal assistance to safeguard the community's rights worldwide. Please report hate crimes and bullying at http://www.unitedsikhs.org/hate_crime/usa/hc.php or contact UNITED SIKHS at contact@unitedsikhs.org

Please watch our videos and subscribe to our You Tube channel at UNITEDSIKHSTV and follow us our social media Facebook | Twitter | Blog and see how your contribution is making a difference.