| | |
| --- | --- |
| | |
| | |
ADVOCACY - TAKE ACTION TODAY
Help us shed light on the extent to which members of the Sikh community experience hate crimes and or bullying. From now until April 30, 2017, UNITED SIKHS will be distributing the UNITED SIKHS 2017 CIVIL RIGHTS SURVEY via email, Facebook, Twitter, and via other social media and in the gurdwaras. The survey's purpose is to guide the work of the International Civil & Human Rights Advocacy (ICHRA) staff. It will help the organization better advocate for Sikh and civil and human rights in 2017, and in the coming years. It is also an opportunity for the community to tell UNITED SIKHS how best to serve its needs and how to make best use of your generous donations.
The data collected helps us to better prepare our community to fight for your rights in the courts like Virender Singh's case. Virender Singh was walking to his local gurudwara, or Sikh place of worship, in New York when he was stopped by police and arrested for wearing a kirpan--a religious sword and article of the Sikh faith. We fought alongside Virender in court, and the charges against him were dropped. Read more about this case here.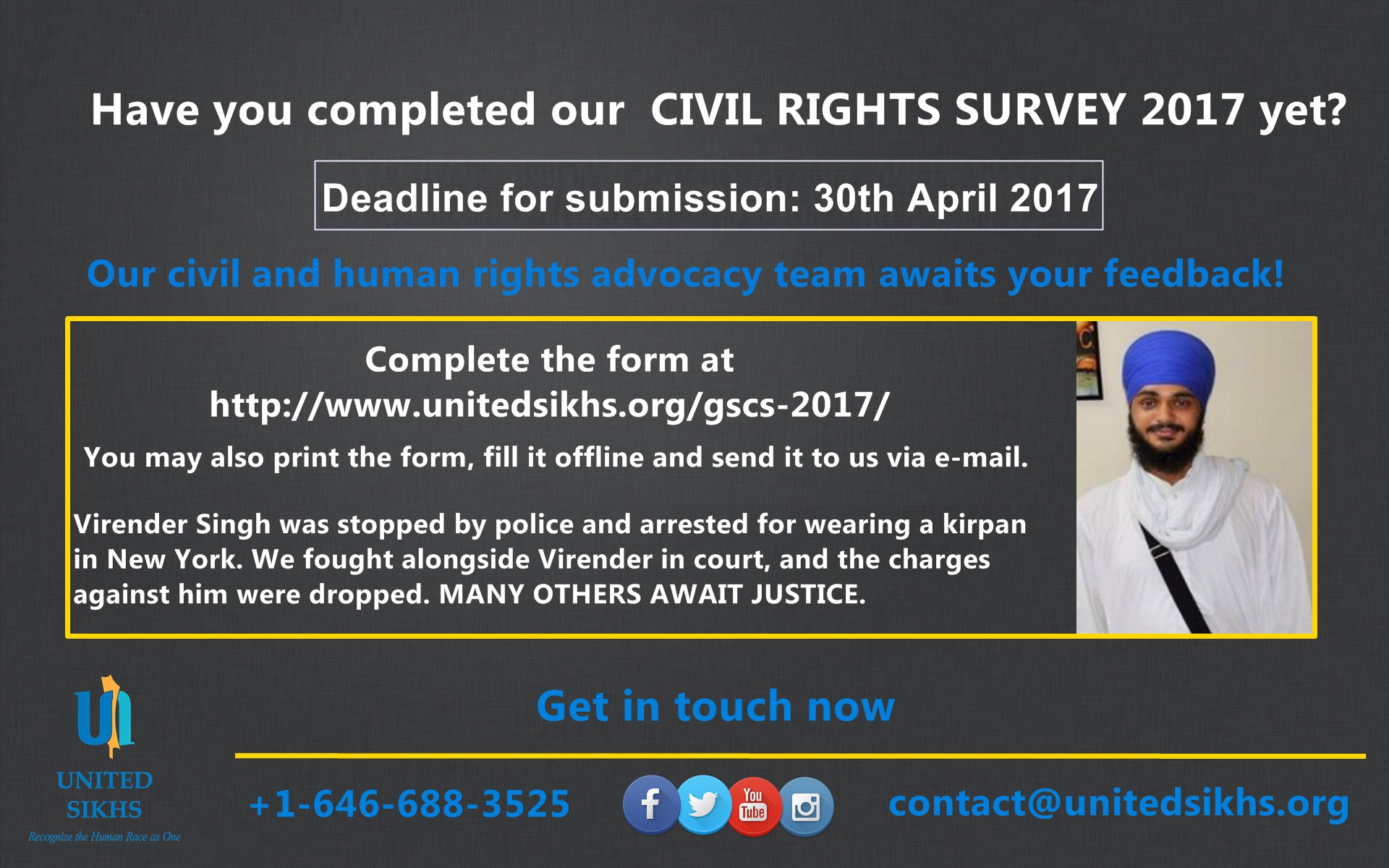 Please click here for 2017 Civil Rights Survey.HELP US HELP YOU.
The survey depends on gathering information from cross-sections of the Sikh community to record varying opinions by different demographics, such as by age, education, country of origin and country of residence. It is purposely short but it is comprehensive. The results of the Survey will be widely shared and will serve to inform the UNITED SIKHS Global Annual Report. See UNITED SIKHS 2013 Global Report here. It will also serve as the focus of the Annual UNITED SIKHS Washington, DC Summit in the Summer of 2017. Your participation in the 2017 Civil Rights Survey will help accomplish important goals in 2017. Please help us by completing the Survey online or print and return it to UNITED SIKHS. Submissions will be accepted between February 1, 2017 and April 30, 2017. Please click here to complete the 2017 Civil Rights Survey. If you would like to volunteer with us in reaching out to the community to fill the survey or need a paper copy, contact us at law-usa@unitedsikhs.org | contact@unitedsikhs.org

Please watch our videos and subscribe to our You Tube channel at UNITEDSIKHSTV and follow us our social media Facebook | Twitter | Blog and see how your contribution is making a difference.
Issued by,
Wanda Sanchez Day, Esq.
Acting National Legal Director, UNITED SIKHS
E:
contact@unitedsikhs.org
|
law-usa@unitedsikhs.org
Click
here
to unsubscribe