Sikh Relief Efforts Underway Amid Historic Flooding in Texas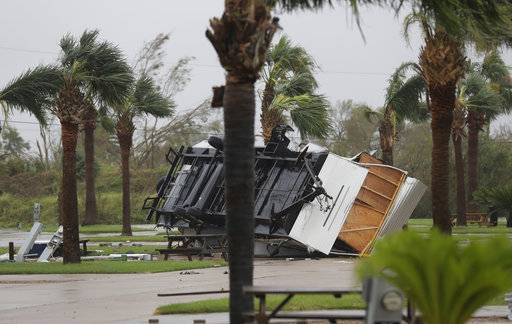 Harvey rolled over the Texas Gulf Coast on Saturday, smashing homes and businesses and lashing the shore with wind and rain. PC: www.dailyherald.com
Texas, USA - UNITED SIKHS staff and volunteers have been activated to provide emergency assistance and disaster relief to those affected by Hurricane Harvey. Funds are desperately needed to help purchase supplies and provide resources for victims of the life-threatening flood emergency. Donate online at unitedsikhs.org/donate and add "Hurricane Harvey" to your donation note.
UNITED SIKHS is also coordinating with FEMA and NVOAD (National Voluntary Organizations Active in Disasters) to collect supplies needed in the relief efforts.
Here are the items requested to assist victims of the storm:
flashlights
portable chargers for cell phones
sandals
children & adult clothing
batteries
socks
water
diapers and wipes
UNITED SIKHS Base Camp has been setup at
Sikh National Center
7500 N. Sam Houston Parkway W.
Houston, TX, 77064

If you are interested in shipping goods and donations you may collect items at your local community centers and Gurdwaras. Please call 1-888-423-1690 for assistance with shipping and distribution of donated items.
"We call upon everyone to implement the concept of Sarbat Da Bhalla - Welfare of All, and provide urgent relief to thousands of our neighbors who are in dire need," stated Hardam Singh, Chairman of the Board at Sikh National Center.
Southeastern Texas has been slammed with what FEMA is calling a "landmark event." Over the weekend, Hurricane Harvey brought unprecedented flooding leaving thousands of residents stranded and in need of help. Heavy rain is expected to continue to move in over the coming days, which will continue the catastrophic and life-threatening flash-flood emergency. Meteorologists are forecasting historic rainfall totals up to 50 inches by Wednesday. One estimated upwards of 340 billion gallons of rainfall.
"This event is beyond anything experienced in this region," UNITED SIKHS Director and Texas resident, Gurvinder Singh said. "Flooding is continuing to pound the city with no definitive end in sight. In times of crisis we are calling on support from anyone who is able to donate supplies and funds as we work directly to provide emergency relief to those impacted by this deadly storm."