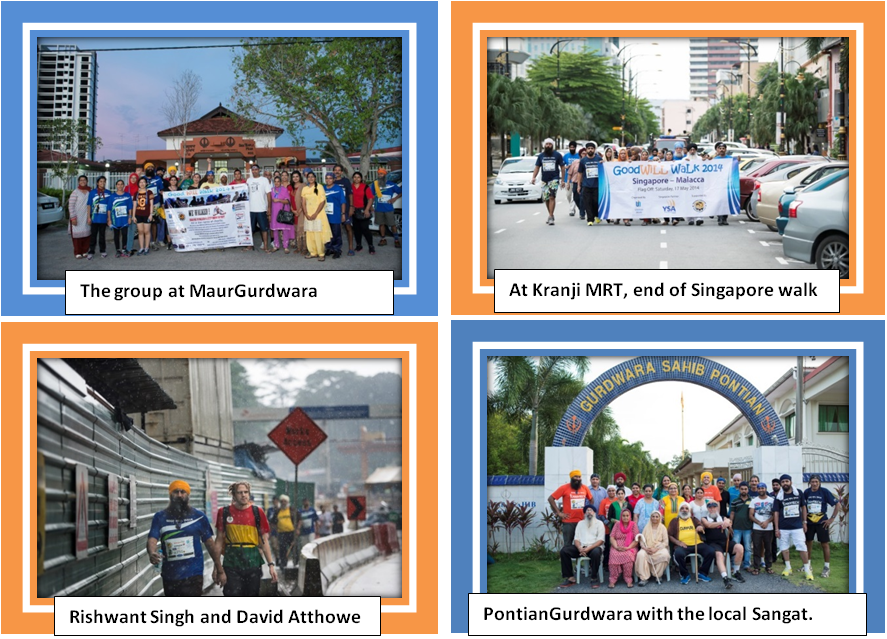 Highlights:
Charity walk completed from Singapore to Malacca. 300 kms walked on foot by 6 full distance walkers with the support of 300 walkers joining us en route.
Purpose of the walk was to raise awareness and goodwill among the races and to fundraise for humanitarian aid projects globally. To read about the over 20 humanitarian relief projects of UNITED SIKHS, please click here.
The team walked for 8 days and 7 nights with around 10 hours of walking a day.
We thank all of you who joined our effort and would like to request all those who haven't been able to support us yet and wish to do so, to please click here
All donations will be split equally with the Gurpuri foundation, who have been our main supporters in this event.
Singapore- Six valiant walkers have accomplished an unbelievable journey to raise awareness and goodwill among the races and raise funds for UNITED SIKHS humanitarian aid projects for underprivileged children all over the world, as well as raising funds for the Gurpuri Foundation, that cares for many orphans and children in need in South East Asia.
The group, who began their walk on the 17th of May at 5am, walked for approximately 7 nights and 8 days, with a distance of nearly 300 kms. This entailed 10 hours of walking per day. The enthusiastic walkers were motivated and greeted by the public as they commenced on this charitable and adventurous journey.
Rishwant Singh, The Flying Singh and UNITED SIKHS Aid Coordinator for Asia Pacific said: "Each step is built on the energy of the previous step and holds the energy of every step before it. Your steps today have such weight that they can create the most beautiful lightness of heart. With lots of humility and acceptance I am grateful for walking every step in thunderstorms to the searing sun.10 hours a day for 8 days covering almost 300 kms from the bottom of Singapore to the middle of Melaka. The body is the instrument of the mind but the true miracles happened when the mind shut down and the spirit took over. The Good Will Walk #GWw2014 completed made me believe I can do anything if I set my mind to it but moreover beyond the mind the spirit is the true mover of making extraordinary things happen."
The walk began from Silat Rd Gurdwara in Singapore to Malacca Gurdwara in conjunction with the Sant Baba Sohan Singh Ji's yearly gathering in Malacca, which is the largest gathering of Sikhs in South East Asia.
 The group stopped over in Gurdwaras in JB, Pontian, Batu Pahat, Muar and finally at Gurdwara Sahib Malacca.
As they entered a new town, to visit a different Gurdwara, the walkers were welcomed by jubilant sangat members, members of the public, school children and bhangra duos, who cheered them on and walked alongside them as they continued to reach the end of their journey.
Sukhveer Singh from Cameron Highlands and one of our full distance walkers said: "The last step of the #Goodwillwalk, proved me that nothing is impossible to achieve if we are optimistic and determined to reach our end goal regardless of the challenges, obstacles and injuries that we had to endure along our journey."
UNITED SIKHS would like to say a huge THANK YOU to everyone who joined the walked, joined, supported and donated. For those who were unable to take part in the walk but would like to contribute towards humanitarian relief work, please click here .
It is through actions such as this that UNITED SIKHS is able to raise money and awareness for it's relief aid projects. This is how we continue to utilise the donations we receive now and in the future.
MEET OUR WALKERS!
The group of included: Rishwant Singh (The Flying Singh), Dya Singh, Amanpreet Kaur, David Atthowe,Antion Vickram Singh Meredith aka Vic Briggs and Sukhveer Singh.
To read more about them, please click here.
We would like to express our gratitude to all of the below. We would not have been able to do it without you!
Good Will Walk #GWw2014
Supported by :
Gurpuri Foundation
UNITED SIKHS Online Media Coordinator (Malaysia) : Avinash Kaur

GWw2014 Full Distance Walkers :
1. Dya Singh
(InterFaith & World Music Musician)

2.. Antion Meredith Vikram Singh aka Vic Briggs
(Former lead guitarist for The Animals)

3.. Rishi aka The Flying Singh
(UNITED SIKHS Humanitarian Aid Coordinator Asia Pacific)

4.. David Atthowe
(Director of Nomadic Lion)

5.. Amanpreet Kaur
(UNITED SIKHS Trustee)

6.. Sukhveer Singh .
(UNITED SIKHS Humanitarian Relief Activist)

Official Broadcasting Partner :
Simra.fm
Simran.tv

Official Photography Partner :
Union Bliss Photography

Official Health Partner :
Bains Physio
Cell Recipe Plus

Supporting Sponsors :
Pro Ace
MAS
YSA
PSI
Gerak SIkh
Dheensay International Furniture
Mrs. Punjaban 2014
Kelab Rekreasi Angkatan Tentara Udara Sg. Besi

Issued by -
Gurvinder Singh
UNITED SIKHS Aid Director
contact@unitedsikhs.org