New NYPD Turban and Beard Rule Opens Employement Opportunities for Sikhs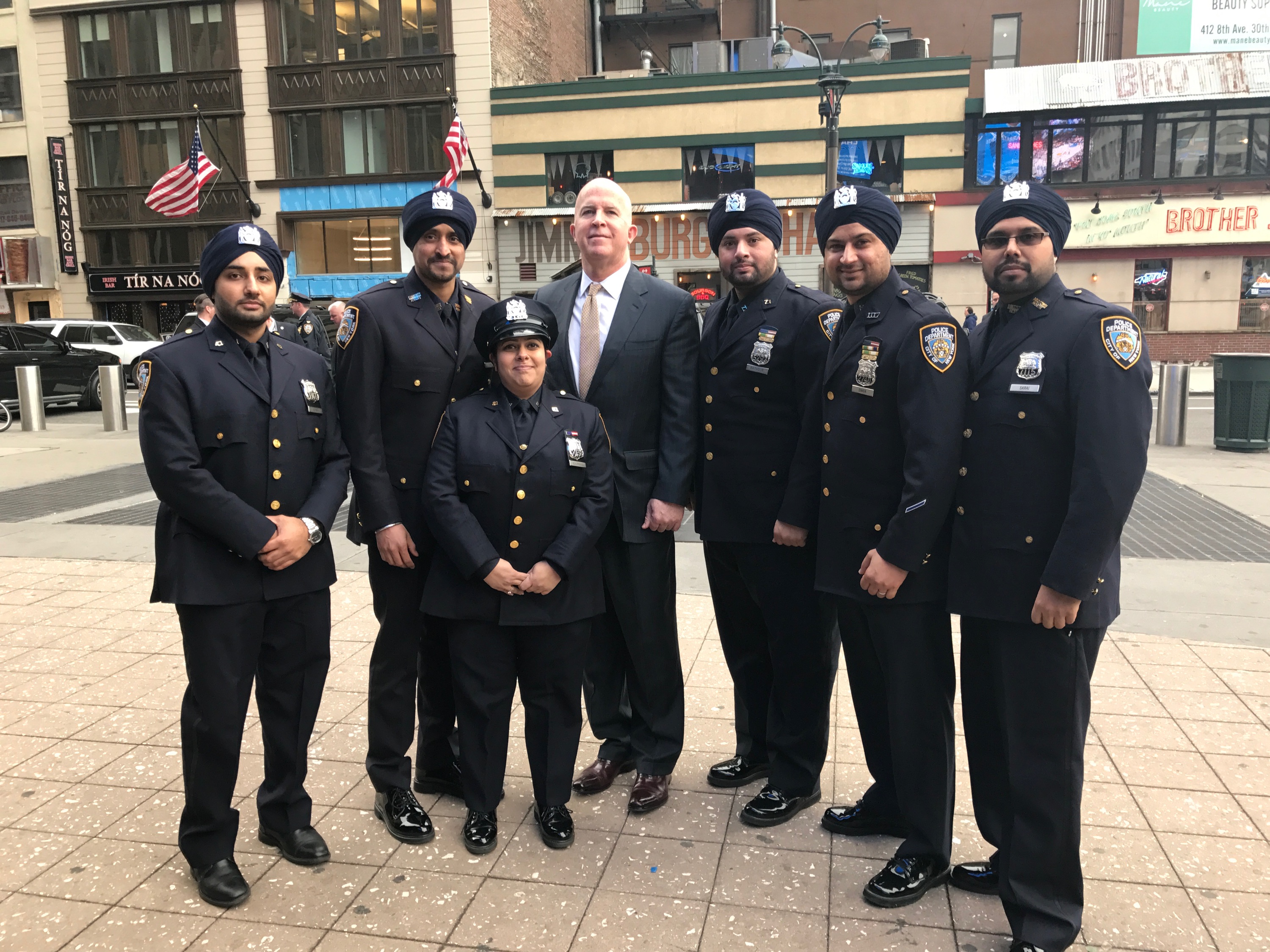 Sikh NYPD Police Officers with Police Commissioner James O'Neil
NEW YORK: On Wednesday, December 28, 2016, the New York City Police Department Commissioner, James O'Neill, announced that in order to continue to make the NYPD as diverse as possible, NYPD would allow Sikhs to wear beards up to one half inch in length, from only a few millimeters in past policies. The new rule would also allow Sikhs to serve with turbans that have a police badge affixed to it. This rule could open doors to Sikh men and women who have until now struggled between the choice to serve their City or their faith. Although welcomed as a step closer to acceptance of Sikh religious rights by the NYPD, there are mixed reviews about the restrictions on beard length because in Sikhism, requiring a Sikh to cut or trim the hair is considered a serious infringement on his or her religious rights.
As noted this week by Commissioner O'Neill, without religious accommodations for NYPD Sikh and Muslim officers, the goals for community policing would miss the opportunity to engage the diverse groups that make up the City's population.
In a quote received from New York City Mayor, Bill de Blasio , "Every day, through their efforts, through their hard work, through their conscientiousness - the Sikh community helps to make this city a better place. Now the Sikh New Yorkers who protect us in the NYPD do not have to choose between their religion and their job."
According to Wanda Sanchez Day, Esq., National Legal Director at UNITED SIKHS, "free exercise of personal religious expression is a cornerstone of American democracy and freedom. The elimination of barriers to the practice of this fundamental right affords marginalized groups of people equal employment opportunities and equal participation in society from which they are otherwise excluded because of their religious beliefs.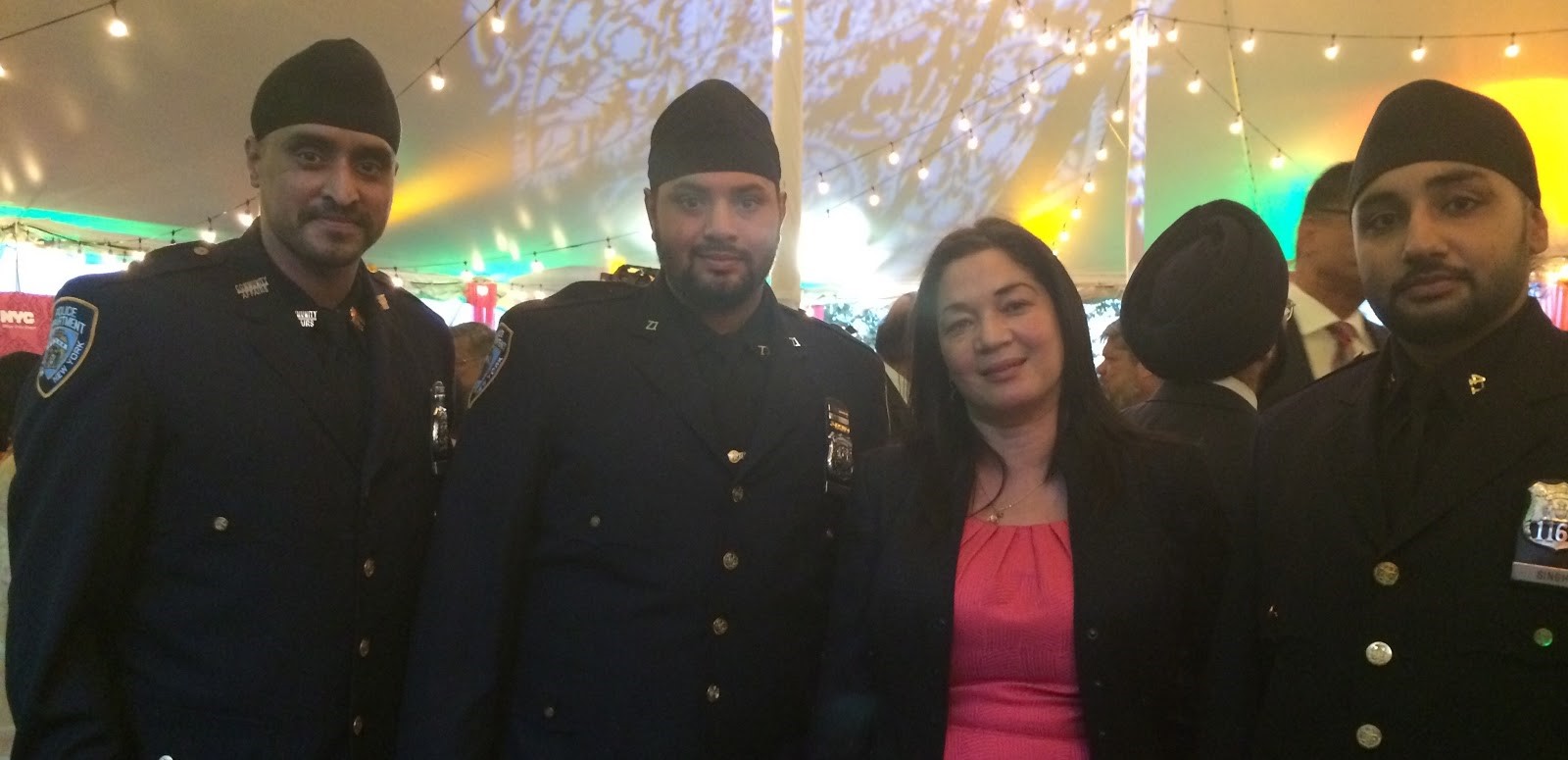 Sikh NYPD Police Officers with UNITED SIKHS National Legal Director, Wanda Sanchez Dey, Esq. in November earlier this year.
UNITED SIKHS has been advocating with NYPD and state and federal agencies for these changes and thanks the NYPD, Commissioner O'Neill, Sikh police officers and other Sikh organization's who have made this change in the NYPD rules possible.
To address UNITED SIKHS requested clarification of the beard length rule and City officials stated that "the NYPD will allow officers to adjust the length by twisting the hair and applying gel to hold it securely under the chin as long as it complies with the length restrictions. In addition, the NYPD's policy allows for certain accommodations to be granted for lengths in excess of half an inch on a case-by-case request and review." "We will continue to work with the NYPD and other law enforcement to ensure that the Sikh religious mandates are fully understood and accommodated," adds Ms. Sanchez Day. "A Sikh cannot trim his beard as per the Sikh tenets and should not have to in order to serve with the NYPD. This would represent a setback to what has been accomplished this week." she added.
Gurvinder Singh, President of the Sikh Officers Association, in a message to UNITED SIKHS, said, "This is a great moment when Police Commissioner announced that NYPD will allow SIkh Officers to keep their turbans and to keep their beards. Now Sikhs can serve in the largest police department, in the most diverse city in the world, proudly wearing their turbans and beards, in keeping with their faith".
With this policy, New York City joins police departments in other cities in the U.S, U.K., Canada, India, Australia and elsewhere who have recognized the brave contributions Sikhs have made over the last one hundred years to preserving democracy. These cities have also recognize a Sikh's potential to greatly contribute to fair and humane community policing in the future.
In January 2017, the City will administer the next NYPD exam and there is confidence that this new rule will empower more Sikhs to apply to work for what promises to be a better and stronger police force.
UNITED SIKHS would like to thank the Mayor Bill de Blasio, the NYPD Commissioner, the Sikh Officers Association and members of Sikh commminty who have worked for this change.