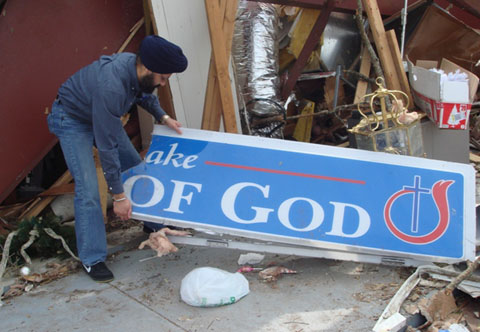 UNITED SIKHS director, Kuldip Singh, at a church site destroyed by the tornado in the Lady Lake area
At least 20 people died and more than 1,500 homes, buildings and churches were damaged as a deadly tornado hit central Florida, USA, early on Friday, Feb 2, 2007. A series of powerful storms blew trees, ripped off houses' roofs, and threw mobile homes off their foundations while people were still asleep.
Four counties have been affected by the devastating tornado. President Bush has designated Lake, Sumter, Seminole and Volusia counties as disaster areas eligible for federal aid and loans. The hardest-hit area is in Lady Lake in Lake County, 50 miles northwest of Orlando.
Soon after the tornado took place, the local Sikh community contacted the UNITED SIKHS AID team. UNITED SIKHS has sent its relief team to the region. The team is working with the disaster recovery centers set up by the Federal Emergency Management Agency (FEMA) and other volunteer organizations in the Lady Lake area. The team will continue to assess the situation and provide emergency supplies and disaster relief as needed.
Continuous updates will be issued by UNITED SIKHS. To receive forthcoming bulletins join our UNITED SIKHS Yahoo group
Please Be Involved, Click here and Join UNITED SIKHS
---