When: Saturday 21st JULY 2012 from 7am to 7pm. The estimated time of the carrying of the Torch by Bhai Fauja Singh is 13.49pm.

Where: At 16 Langgar Service Points in Greenwich, Tower Hamlets, Newham and Waltham Forest. See locations listed far below

The Langgar Service Point where Fauja Singh will carry the Torch: On the Pavement at the junction with Hunts Lane after High Street and before Bow Flyover, which is close to the 13.50 marker on the attached Torch Route map for Newham.

What: Service of Langgar (free community meal) to the public along key points of the Torch Relay Route on 21st July 2012 To watch a trailer on the Langgar 2012 event click here.
"It's historic because the oldest marathon runner will be a torch bearer in his own country and he is a Sikh, doing justice to London's bid which was won on a diversity ticket," said Mejindarpal Kaur, Project Director of Langgar 2012.
"We are expecting volunteers from all over the UK to do seva at the participating Gurdwaras, from 4am tomorrow. The atmosphere will be magical," said Palvinder Kaur, the Langgar 2012 project coordinator for Singh Sabha Gurdwara (Barking and Seven Kings)
20th July 2012, London, UK– Will you prepare and serve Langgar tomorrow (21st July 2012) when tens of thousands of people will turn up on the streets of London when the Olympics Torch is carried by 101 year old marathon runner, Bhai Fauja Singh in Newham, where the Torch is carried for the first time in the borough which is the home of the Olympics stadium.
To celebrate the carrying of the torch by the oldest torch bearer, UNITED SIKHS, the UN Affiliated International advocacy, humanitarian relief and human development charity, alongside 16 Gurdwaras (Sikh places of worship)and Sikhs from abroad will be participating in an unprecedented celebration of how Sikhs embrace diversity. Thousands of roti rolls will be prepared at Gurdwaras and served on the streets of London on a rolling schedule from 7am to 7pm. Click here for a leaflet on Langgar that will distributed to commemorate the event.
If you wish to participate, turn up at the participating Gurdwaras at 4am tomorrow to do seva to prepare Langgar and or be at the Langgar 2012 Service Points. Click here, for details of participating Gurdwaras. See maps of the Langgar 2012 Service points here.
To be televised live on The Sikh Channel and Sangat Tv, the guests at the Langgar Service Points will include Sikh community leaders. Paul Uppal, MP for WolverhamptonSouth West, who has been backing the project since its inception, remarks, "I am happy to be a part of this fantastic event as it embodies everything that I believe in as a Sikh and as a Conservative promoting the Big Society. I am looking forward to seeing Gurdwaras from all over the country who have come together to serve others in the name of faith and community."
How You Can Participate:
To VOLUNTEER for Langgar 2012, please register by clicking here or call +44 (0)8701993328 and let us know with which of the participating Gurdwaras would you like to do seva. For a list of participating Gurdwaras, click here.
To DONATE call our Langgar 2012 donation line on +44 (0) 7565238299. For an Information Pack on Langgar 2012 click here.
What is Langgar 2012?. On 21st July 2012, to coincide with the legendary Fauja Singh carrying the Olympic Torch, Sikhs from across the world will unite in serving Langgar along the route of the Olympic Torch Relay. Branded in yellow t-shirts, specially designed with Fauja Singh's image, each volunteer, from the Sikh community and those invited from multiple faiths and backgrounds will come together in serving the community.
How much Langgar do we expect to serve? There will be 16 Langgar Service Points along key points of Torch Route each serving at least 1,000 Veg Roti Rolls within two hours. Should all go to plan, the Veg Roti Roll Langgar is anticipated to reach some 15,000 people who would have turned up to cheer the torch bearers on the 30-mile route on 21st July 2012.
Who's participating? Sixteen Gurdwaras from across London. Kent and Reading are participating in the Langgar 2012 event. "Sikhs from abroad are also attending, which could be the largest Langgar event outside of India," said Mejindarpal Kaur, UNITED SIKHS Project Director of Langgar 2012.
A look inside UNITED SIKHS-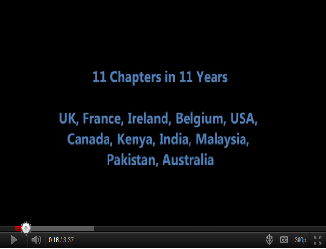 Photo Gallery